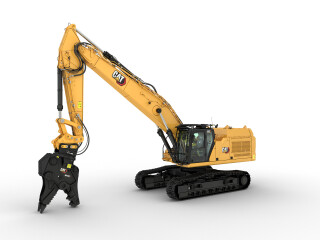 The stick/boom configuration the Cat 352 Straight Boom delivers a vertical reach of up to 12.85 metres, which is 36% more stick pin height than the standard 352 Reach configuration.
Working with up to a 6,000 kg attachment weight, the new model has standard Cat technologies "for increased versatility, precision and efficiency in both demolition and excavating applications", Caterpillar says.
There is now the option of a removable 11.35-tonne counterweight to reduce transportation cost. The mechanical variable gauge undercarriage has a 2990 mm transportation width when needed and extends 500 mm in working mode for maximum stability. Its new hydraulic fan has standard automatic reverse to keep the cores free from debris and thus reduce maintenance needs.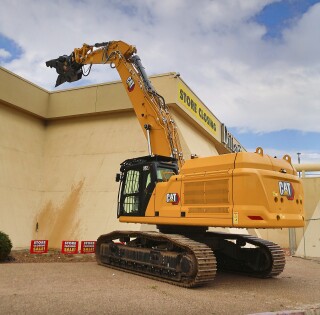 As it is designed for demolition, the 352 Straight Boom has reinforced booms, sticks and frame. Standard Falling Object Guards (FOGS) protect the roof from falling debris during demolition while reinforced P5A laminated front windows help maintain visibility of the job in hand.
Sloped to prevent excessive accumulation of mud and debris, the track frame design helps to reduce track damage, while sealed track pins and bushings reduce travel noise and help to increase undercarriage life. Full track guiding guard is also a standard feature.
The Operator ID function offers push-button engine starting and programmable joystick functions that are remembered when the operator enters his or her unique ID. Standard Cat Stick Steer enables one-hand and push-button operation for travel and turning. Offering automatic power increase when needed, standard auto dig boost delivers better bucket penetration, shorter cycle times and greater payloads, Caterpillar says, while the auto heavy lift function provides more lifting power when needed for as long as needed.
Cat Lift Assist lets the operator know that the load is within the excavator's safe working range to avoid tipping. Rear view and right-hand sideview cameras are standard, and can be upgraded to provide 360-degree visibility.