Outside the church two backhoe loaders formed a guard of honour for the happy couple to walk through, in the form of a Caterpillar 432E owned by Martin Hoare and a Case 590 Super owned by Ryan's employer Steve Hoskin Construction Ltd.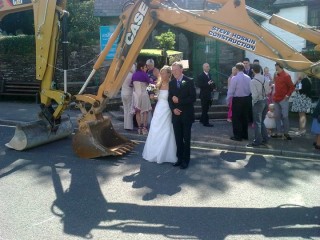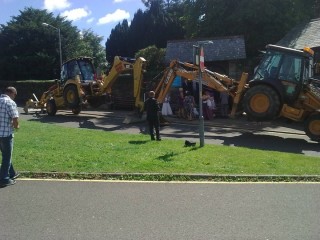 47 guests attended the church ceremony and after the obligatory photo shoot outside the venue, the new Mr and Mrs Stallard were whisked away in a man basket fitted to the front bucket of the Case machine. After a tour of the Liskeard streets, where many locals cheered and took their own photos, the couple arrived at the British Legion club where a further 40 guests joined them for the reception.

The couple are to honeymoon towards the end of October.
Ryan has worked for Liskeard based Steve Hoskin Construction Ltd for 3 ½ years and is currently operating one of the superb Case CX130B models as seen here.
Here at the Digger blog we wish you all the best and a very happy married life together.