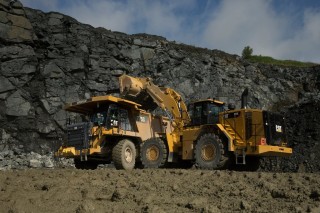 The new Cat 988K XE is the first wheeled loader from Caterpillar with electric drive. It makes use of switched reluctance (SR) technology – which is an electric motor that runs by reluctance torque, Wikipedia tells me.
The C18 ACERT engine, mechanical dropbox, driveline and axles from the 988K all remain in the electric drive version.
Caterpillar claims that, compared with the 988K, the 988K XE increases efficiency by 25% overall and by up to 49% in face-loading applications. This reduces costs and as well as carbon footprint. At the same time, Caterpillar production studies report the new loader delivers up to 10% higher productivity in load-and-carry applications.
With extended oil change intervals of 2,000 hours, the electric drive wheeled loader uses 40% less powertrain oil, Cat also says.
Bucket capacities range from 4.7 to 13 m3. Rated standard and high lift payload for the loader reaches 11.3 tonnes when working with face material and 14.5 tonnes with loose material.
This model will be making its debut at the Steinexpo show in Germany next week.
Cat 988K XE wheeled loader specifications
| | |
| --- | --- |
| Engine | Cat C18 ACERT |
| Gross Power (SAE J1995) | 439 kW |
| Operating Weight - Standard | 52,781 kg |
| Operating Weight – High Lift | 54,258 kg |
| Rated Payload – Standard (face/loose) | 11.3 tonnes / 14.5 tonnes |
| Rated Payload – High Lift (face/loose) | 11.3 tonnes / 14.5 tonnes |
| Bucket Capacity Range | 4.7 - 13 m3 |
| Dump Clearance – Standard | 3,492 mm |
| Dump Clearance – High Lift | 3,885 mm |