This low houred, 2006 model Caterpillar 365CL was bought at auction by Granby based, Les Entreprises Allaire & Gince. It was put straight to work on a sewer installation and earthmoving contract in Cantons de l'est, a south eastern region of Quebec.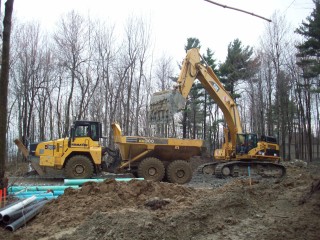 This choice of machine was a surprise to the local earthmoving machinery enthusiasts, as up until then Allaire & Gince had only ran John Deere machines and one Komatsu PC220LC-7 in their fleet.
After that job was completed the machine returned to the companies yard, where it was given a cosmetic makeover, including painting the engine cover black to give the appearance of a Poweredge 365C or the soon to come 374D's.
The machine appeared in Anthony's neighbourhood the next day, still in transport mode with its dipper removed, awaiting to start work on a 4 month sewer line project, excavating down to a depth of 6.5 metres for a pumping station.
Later in the week Anthony saw the machine working for the first time stripping topsoil in amongst a woodland area. The machine had now been fitted with an Ateliers RF hydraulic wedge lock quick coupler, which are actually manufactured in Quebec and was also sporting a mass excavation bucket of around 5.5 to 6 cubic yards.
During a chat with the machines operator, Stephane, he explained that "the 365CL was 40% more efficient than the 345 or 450 sized excavators that he had previously been operating. "

The job proved to be especially problematic with extremely muddy conditions to contend with.
So muddy that they had to bring a 13 feet wide John Deere 624J wheel loader specially fitted with floatation tyres for distributing pipe bedding and other materials.
Then a working mat of blasted rock was levelled over the site - this material was distributed by two new Komatsu HM300-3 articulated haulers which Allaire & Grince had bought a few months before.
Later in the summer, Anthony and his friend Charles went back to see their favourite machine in action in Granby, where they were replacing the sewer system under the main street.
Anthony said "This was another tricky deployment for a machine of this size, and it was clear to see that the operator was very skilled working around telephone cables with such a large machine"
Thanks to Anthony for sharing his photos and story with us here on the Digger blog.