The E Series range currently consists of four models, ranging from the 324E with an operating weight of 29,859 kg, up to the 50 ton class 349E which weighs from 47,800 – 53,300 kg, depending on specification. Three models were displayed at Malaga, the 31,639kg 329E, the 35,894kg 336E, and the aforementioned 349E.
The digger blog was given the opportunity to try out the 329E which replaced the outgoing 329D and as such I will focus this report on that model. The 329E is powered by Caterpillar's C7.1 Acert engine and features a net power output of 173kw. The machines design enhancements include 13% more net horsepower, less fuel consumption, and a 5% increase in lift capacity. New hydraulic refinements and an all new operator station, coupled with new safety and serviceability features, make the 329E a highly productive machine that can offer significant savings on operating costs and is eco friendly with its engine meeting stage IIIB emissions standards.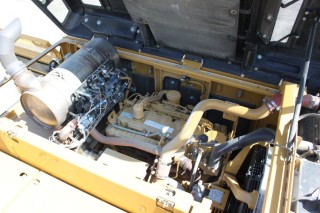 The 329E is fitted with a powerful, two pump, pilot operated hydraulic system which gives a fast response and fuel savings too. A new main control valve enhances oil flow efficiency, and a new electric regeneration valve in the boom circuit and a hydraulic type in the digging arm circuit minimize hydraulic flow for further fuel savings.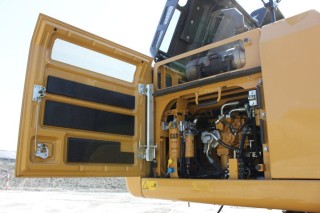 A selection of 3 different booms and 4 styles of digging arms can be configured to suit individual customers needs; booms include reach, super long reach and mass excavation. Other new features include new quality large pressed steel rear panel doors for superb access to hydraulic components, and ground service points on the right hand side, and on the left for access to the side by side hydraulic oil cooler and radiator which can be tilted out for cleaning.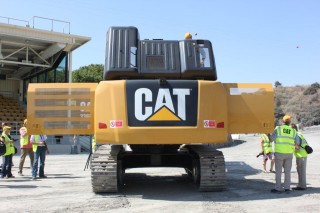 The cab, as one would expect is a very refined and spacious place to spend a long shift in. A new high resolution LCD display monitor is fitted and is 40% larger than on previous models. As is becoming the norm these days, the screen doubles up as a reversing camera when reverse tracking motion is selected. There is also an option to fit a further two cameras for even better all round vision.

There is also a choice of seats which can be heated, or in very hot climates an air cooled version can be specified, all standard seats come complete with full air suspension. Fully automatic air conditioning is standard as it should be in all machines these days in my opinion. There are plenty of ventilation outlets to hand to assist with getting that perfect air flow to the operator which I feel is extremely important.
I spent a very brief few minutes on the machine as once again up take for "stick time" was high, so it was difficult to fully evaluate the machine, having said that the time I spent on it was enjoyable and the machine did everything I asked of it, smooth and powerful hydraulics and good digging & grading ability too. The E Series machines feature 3 working modes which include Eco, Standard and High Power, as per usual most manufacturers recommend working in the standard mode these days, but most "old school" operators like me prefer full power, which is what I quickly put the machine into. Having said that, there are considerable fuel savings to be made by operating the machine in standard mode, something many customers are taking very seriously in the current economic climate.
The machine on demo in Malaga was fitted with narrower track pads then we would usually specify in the UK market, but even with a full bucket extended over the side, the machine sat very stable, even when I tried to prompt a tilt by lowering the bucket sharply, which was impressive. With that my time in the seat was sadly over, and the machines auto idle engine shutdown system brought my time in the 329E to an end.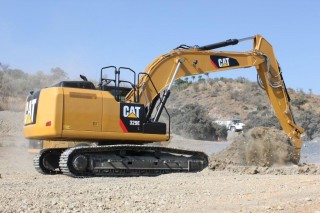 Operator safety is high on the agenda with most manufacturers these days, and Caterpillar are no exception. The E series machines are fitted with powerful working lights, either standard halogen versions or the optional high intensity discharge lights, which are superb when working at night or early mornings. Anti skid access surfaces with good boot tread are fitted to the upper structure, along with ISO compliant hand rails to help prevent falls from height.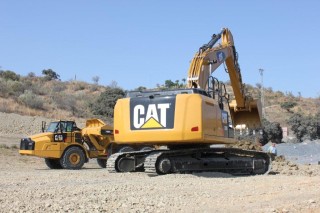 I hope to get another chance to try out other models in the E series range in the future, and hopefully I will be able to really put them to the test, my experience of them in Malaga has left me impressed and hungry for more E Series action!