The 308E CR SB (Compact Radius Swing Boom) is the direct replacement for the outgoing D Series model which has been a very successful product and in my opinion was a superb machine to operate. This new model has been totally redesigned from the ground up, with a major focus on improving machine stability and of course, the increasingly important exhaust emissions.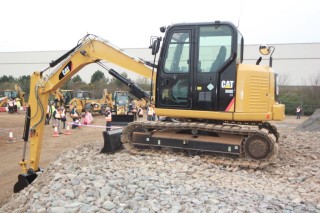 The 308E is powered by a Cat C3.3 engine which generates 50kw (67hp) and meets the latest stage IIIB emissions regulations. It has an operating weight of 8,210 kg (18,099 lbs) and can attain a dig depth of 4,724mm. Engine horsepower is boosted by some 17% compared to the old D Series model, which translates into faster hydraulics which improves travel speed, grade climbing and further enhances machine manoeuvrability.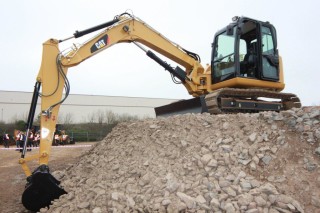 I climbed into the cab to put the machine through its paces on the extensive demo plot at the Desford facility. My immediate first impression was the cab interior was much larger than the D Series. This is something most major manufacturers appear to be addressing these days, as a major gripe with fellow machine operators I meet on a daily basis, is the lack of space inside many mini and midi excavator cabs. Being vertically challenged myself I never have a problem, but I am sure you will agree this cab interior is pretty substantial.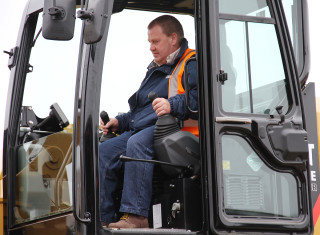 The usual creature comforts that we have come to expect are also included, with air conditioning, heated suspension seat, and radio all standard fittings. New styled ergonomic joysticks have been incorporated into the cab, and a number of switches and controls have been relocated to within easy reach of the operator. The dozer blade control also features the two speed travel switch, which makes life a lot easier when gearing down for dozing duties. A secondary auxiliary hydraulic engagement button is also included on the left hand joystick.
All models in the E Series mini excavator range, now come equipped with a digital control panel which has been specifically designed for Cat mini excavators. The monitor system is called COMPASS which stands for, Complete Operation Maintenance Performance and Security System. An anti-theft system is built in to the monitor that requires the operator to punch in a five-digit alphanumeric password to start the machine. Ideal for those of us who would like to immobilise our machines, so nobody uses them over the weekends or out of regular work hours.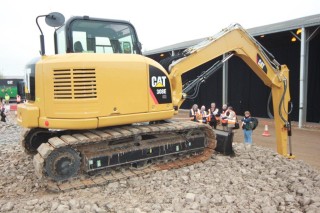 I put the machine to work and it was everything one would expect from a modern Caterpillar machine, smooth hydraulics, and plenty of power in the dig too, I dug up a large bucketful and tested the machines stability over the side at full stretch, this particular machine had an additional counterweight fitted which is normally only required for working in extreme situations like carry heavy work tools, including flail mowers and hydraulic hammers. At full stretch the machine still remained in a balanced position even as I dropped the bucket to induce a tipping point.
After the dig I shaped up the heap of stone and dirt material mixture ready for the next journalist to try out, and discovered that the grading capability was impressive too, add to that the end of stroke dampening on both boom and stick cylinders the whole experience turned out to be a very smooth operation.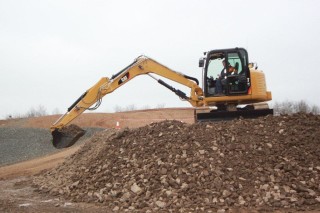 Machine serviceability has also be well thought out, with large inspection panels facilitating easy access for routine maintenance, including refuelling with its built-in electric fuel pump, and easy access to the radiator, oil cooler, and major hydraulic valve block. Even the starter motor has been moved to the other side of the engine to improve access in the event of a failure in the future, a good move as any mechanic who has struggled to get one off from the other side will tell you!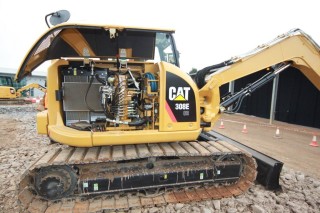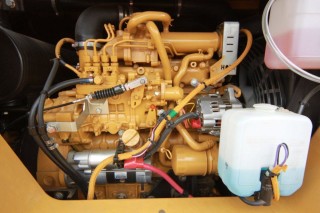 All in all another well put together machine that is sure to be popular with Cat brand followers and others in the industry.