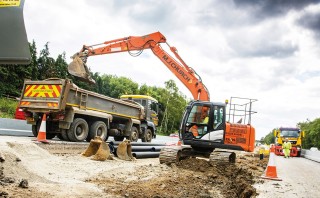 MJ Church is working on the M3 smart motorway project for Balfour Beatty, which was awarded the £129m main contract by Highways England back in July 2014.
The machines on the job are ten ZX210LC-5 excavators, four ZX130LCN-5s and a ZX350LC-5.
MJ Church started work on the verges and central reservation in January 2015 by stripping off the topsoil and excavating the subsoil materials. The majority of these were then transported to the site compound, ready for recycling, along with all of the sand and hard materials, such as concrete and asphalt.
A ZX210LC-5 was used to feed the onsite crusher in the recycling yard at the compound, where the ZX350LC-5 (pictured above) was loading MJ Church's trucks from the stockpiles. At peak times between 1,000 and 1,500 tonnes of recycled type one (used under the new road and concrete barrier) and 6N (backfill for structures) materials were being transported back on to the site every day.
A ZX130LCN-5 (below) also stockpiled a lot of the excavated subsoils that came back to the compound. It sifted through these materials with a riddle bucket to take out the lumps and prepare them as suitable backfill around structures and drainage work.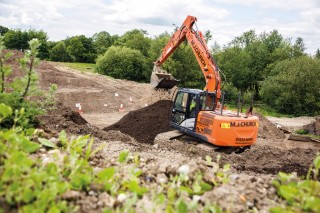 At the busiest period during the spring, MJ Church had a crew of 107 employees working on the M3 project, supported by the Hitachi fleet.
"The 20-tonne excavators were working close together on the central reservation in teams of three: one clearing the topsoil, one carrying out the excavation work and the other putting the stone in," explains the subcontractor's works manager, Vernon Creed.
"My job is to ensure that productivity is high, so from my perspective reliability is the number one strength of Hitachi excavators."
MJ Church has a long-standing relationship with Hitachi Construction Machinery (UK), the success of which has been based on product quality and support service. "The performance of the machines is impressive and they deliver a favourable cost of ownership," says MJ Church managing director Steve Blower. "We are reliant on the efficiency of our equipment and team working in harmony. The level of support we receive from HCMUK is second to none and this backup is so important to our operation."
They've made a short video, which is worth a look: