Sadly the Digger Blog was unable to attend this event, but luckily for us two of our readers, Ian Fletcher and Rob Atkins, did spend a day there, and have kindly sent us some superb photos to enjoy. First up is this lovingly restored example of a 22RB ICD in face shovel configuration and sporting the sign writing of Shepard Hill.
A nicely preserved motor scraper in action now, in the form of this Euclid S7 which is displayed in the colours of Dowsett.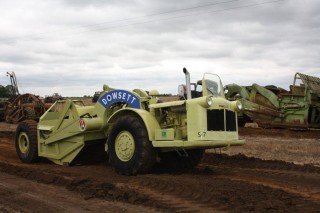 Two shots now of another scraper, in not such good shape cosmetically at least, the Terex TS24, once the benchmark for scrapers during the boom time for muckshifting in the UK. From cab side one can clearly see the Detroit Diesel engine at the rear.
And a view of it from the other side out on the demo plot. I bet those screaming Detroits were some sound when it got going!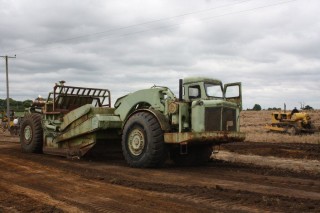 Here we have a Muir Hill A5000 loading shovel with 4-in-1 bucket and still in its military camouflage. These rather clumbersome looking machines were once the staple choice of wheeled loaders in the British army. They were often fitted with a rather crude looking backhoe as well, in fact as a youngster I remember having a go on one at the Southampton Show, with the guy instructing from REME looking rather surprised when I started using it in a proper fashion!
Priestman machines now, and a fine example of a Wolf rope controlled backhoe in the digging area. I am led to believe that this fine looking machine belongs to the Vintage Excavator Trust.

Check out this Priestman 120 hydraulic excavator firing up, none of your Tier 3 interim or Tier 4 EU nonsense back in those days!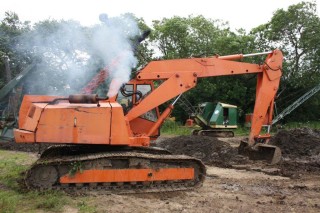 And a good shot of the same machine on the digging plot. I spent a fair amount of time on these machines as a youngster, when the company my late father worked for, Marsh Plant Hire bought a fleet of them to replace some outgoing Hymac's at the time. Their machines were however painted in the more familiar Hymac lime green colour, with Marsh Plant's distinctive blue signage emblazoned on them. I used to think they looked really smart until they got some scratches on them and the orange used to show through from underneath!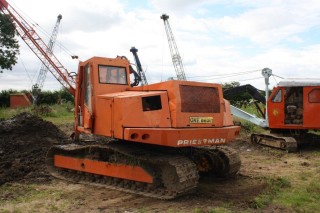 Here's a rare machine, a Ruston Bucyrus RH220 hydraulic excavator, there can't have been that many of these machines manufactured and although I recall they were not much of a success its good to see that one of them is still around for other generations to see. I spent one day on one of these for a guy called John Sheridan working on the site of a new Tesco's superstore in Southampton, it certainly could dig when it was working properly but that one I was on spent more time broken down than operating and at 4pm that day I couldn't take it anymore and "jacked"!
A rare looking Caterpillar tractor unit and towed rear dump trailer now, according to Rob, this machine featured a cushion hitch arrangement similar to the ones fitted to motor scrapers from that period. This machine is I believe, a Cat 830M scraper tractor model, with the dumptruck section being a conversion.
Another great working day, and a great chance for young & old plant men, and their families to get together to recall the glory days of British earthmoving. I really hope I get the chance to attend one of these events in the future.
The Digger Blog thanks Ian and Rob for sharing their photos from this great event.