Coles Plant run a predominantly Caterpillar brand fleet of machines, in terms of excavators, dozers, track shovels and compaction equipment, with Volvo being the chosen make for articulated haulers. Many of their machines are currently involved in 100,000 cubic metre muckshift in Hooe Lake, on the outskirts of Plymouth. Prime mover on site is this Cat 330DL hydraulic excavator, which is involved in loading the company's Volvo A25D trucks.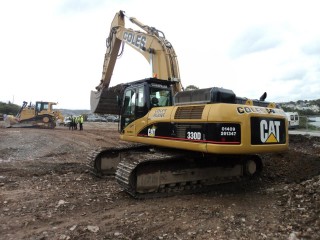 The job is taking place on the site of a disused quarry and there is a variety of materials to be dealt with by the Coles team. A 20 ton Caterpillar 320D has been involved in feeding a crusher with rock, supported by a Cat 307 fitted with a hammer.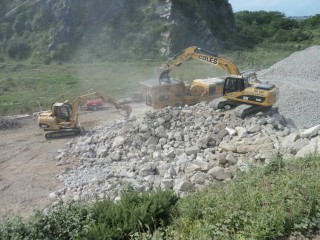 Much of the material is being spread and compacted in layers across the site, in preparation for the development of 222 houses for Barratt Homes. Two of Coles' dozers have been involved in the in-fill operation, the new D6T XL that we reported on earlier this year, which is operated by Justin (Go Back) Gliddon, and a D6N LGP with PAT blade operated by Rob Heard.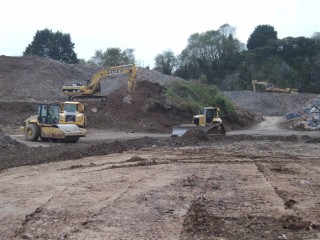 We thank Matthew Lugg for sharing these photos with us here on the Digger Blog.