Bleu Blanc was founded in 2003 and is one of the country's most important regional rental companies covering Western France with a network of 20 depots.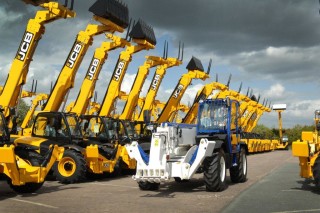 Employing 90 people and with a fleet of more than 8,000 machines, the company's main bases are in Brittany, Normandy and Maine et Loire Sarthe. Bleu Blanc is owned by Mr Philippe Jan, who is Chairman, The latest investment in JCB Loadalls includes ten 535-140 models, nine 540-170s and one 535-95.

Tim Burnhope, JCB's Group Managing Director of Product Development and Commercial Operations, said: "Bleu Blanc has been a JCB customer now for 12 years so we are delighted to win this repeat business from such an important rental company."

Philippe Jan said: "It's vital in our industry to offer the most modern and up-to-date equipment to our customers and this latest investment in JCB machines delivers on that promise."

Bleu Blanc also operates JCB backhoe loaders and the latest machines have been supplied by JCB France dealer M3 (Dubreuil Group) which covers Western France.


The new Loadalls are already lined up to work on house building and construction projects across the region. While Bleu Blanc was formed in 2003 under the ownership of Philippe Jan, the organisation can trace its roots back to 1957 when Jean Claude Mangeard, the son of a blacksmith, created a company to lease and sell construction equipment.