Working at ground level, the compact and manoeuvrable machines' initial role was to fill in a void which was previously a mezzanine floor above the Backhoe Loader Business Unit offices. Over a 48 hour period, the 515-40s lifted 30 fabricated steel girder sections, each weighing 1.3 tonnes, into the air so they could be bolted together to form a new floor area.
The machines – hired from Manchester-based PJP Plant Hire – stand 1.8 metres high, 2.97 metres long and can lift 1.5 tonnes to 4 metres and are 4-wheel steer, making them ideally suited to sites where the working area is restricted, particularly inside buildings.
The 515-40 is the smallest-ever Loadall telescopic handler model ever produced by JCB. Delivering powerful performance despite these compact dimensions, the machine brings the benefits of JCB's market-leading Loadall range to previously inaccessible construction and industrial applications.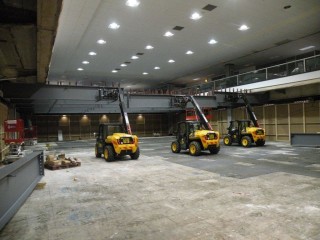 At the heart of the JCB 515-40 is an innovative, patented chassis design. To achieve the lowest possible working height, JCB has challenged conventional design concepts to develop this unique, off-set, single-spine chassis with the machine's cab then occupying the resulting space.
As a result, the machine boasts a spacious operator environment, with easy access, yet the overall height of the machine is reduced to less than two metres - a barrier which has previously prevented compact telescopic handlers performing in many otherwise suitable applications.