The Digger Blog will be attending for the first two days with members of the Construction Index team and I will be writing a series of reports after the show, but today I am going to take a brief look at some of the highlights we can expect to see during our visit.
One of the most talked about events taking place at the show, is the official European launch of Hyundai's 120t R1200-9 excavator, a machine that has been successfully field tested in New Zealand, and by all accounts is making a big impression on those that are using it. Powered by an impressive 23 litre, 6 cylinder Cummins QSK23-C engine giving the machine a rated output power of 760hp (567kw), it has a maximum digging depth of nearly 8m and can carry a 6.7m3 bulk digging bucket.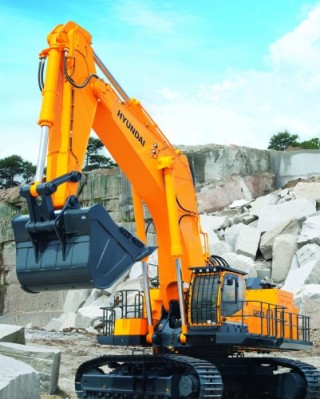 This machine comes hot on the heels of the already successful 50t and 80t high capacity models that Hyundai already produce, and this flagship machine is a logical step forward for the company as it seeks to make further in-roads into the worldwide mining and quarrying sectors.
Also making their European debut will be Hyundai's latest Dash 9A excavators and wheeled loaders. Building on the success of the original Dash 9 models which are now firmly established around the world, the most significant change in these machines will be the fitment of EU Stage IIIb compliant diesel engines and other operating and control system upgrades.
Case construction equipment will be launching 2 new short radius excavators at the show, including the CX235CSR and of particular interest to me personally, a prototype CX145CSR machine, a really useful piece of kit for working on major housing sites when operating in amongst the plots.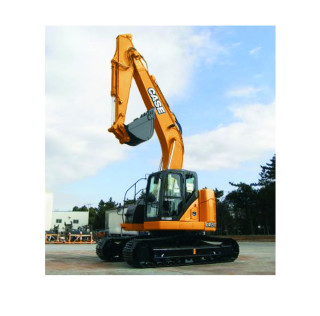 These all new machines are fitted with low emission Isuzu engines designed to meet Tier 4 interim emission legislation and will provide a 17.5% improvement on fuel consumption compared to previous models while still providing 7% faster cycle times.
I will also be very keen to take a look at the latest Case C Series excavators in their new livery, which are also being fitted with the latest Tier 4 interim engines. The models include CX130C, CX160C, CX180C, CX210C, CX210C Long Reach, CX470C, and the CX470C ME (Mass excavation model). The machines benefit from five additional hydraulic energy saving systems, contributing to a 10% fuel saving compared to the B Series models that they replace. Faster cycle times and increased lift capacities also boost productivity.
One of my fellow operator's and friend Graham Centini, who is a dedicated Case man, said to me recently, "I will be interested to see what they have done to the cab interior, as my B Series cab is pretty much perfect and I just can't see how they could possibly improve on it".
A fine endorsement indeed, but I can report that Case have increased interior space by 5%, lowered noise levels both inside and outside the cab, fitted a new 7" LED monitor display and improved the cabs heating and air conditioning unit.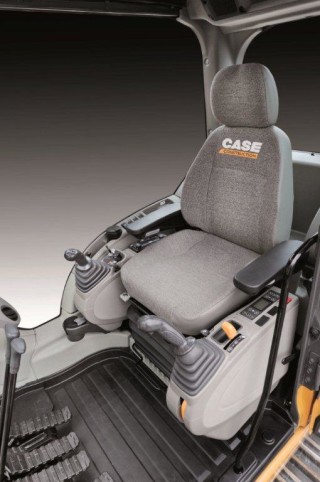 Case will also be rolling out two F Series new wheeled loaders at Intermat, in the shape of the 320hp 1021F and the 347hp 1121F.

The two machines benefit from a clean-sheet design, to provide class-leading performance and productivity with low ownership and operating costs.
Both machines have been designed to provide market-leading levels of performance. This includes powerful lift capacities, with the 1021F offering an operating load of more than 8 tonnes. The larger 1121F has an operating load of around 9 tonnes, enough to fill a 27 tonne dump truck in three passes.
More delights will await us on the Volvo stand, who are said to be offering a stunning display of the company's vast product range. Amongst the highlights for me, once again will be two upgraded compact radius excavators, including the ECR145D and the ECR235D models. The ECR145D is powered by a 114hp engine whilst the ECR235D gets a six cylinder 173hp offering. It will be interesting to see what the company has done to increase cab space inside these new D Series upgrades.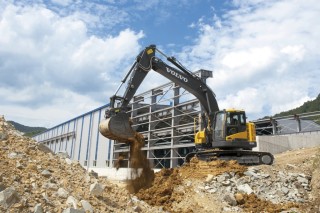 I am also looking forward to seeing the company's latest wheeled and tracked skid steer range, which is part of the joint venture with JCB in America. And a whole host of other innovative product launches which are planned for the event.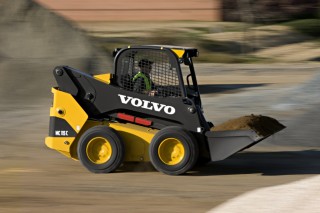 New Holland Construction will be showcasing more new models from its C Series excavator range, with the introduction of two new machines, the 35 ton, 286 hp, E385C and the 48 ton, 363hp, E485C. Both machines feature more power, and faster cycle times and are fitted with Tier 4 interim engines as one would expect.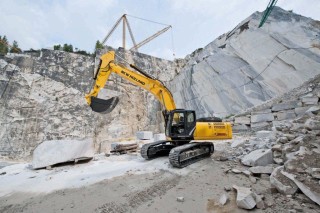 These machines feature the latest EVO cab, that we reported on when we test drove one of the later E215 B Series models last year here on the Blog. Offering excellent all round visibility from the large glazed areas, and the addition of the rear view camera on the multi function monitor, greatly assists the operator to have a full view around his machine.
Also new at the show will be three new backhoe loader models, including the B100C, B110C and B115C, which are said to be bristling with new productivity boosting features including the Auto Glide Ride system, which eliminates rebound of the loader arms when travelling, ensuring maximum retention of the bucket at speeds as high as 40 km/h. This system is automatically activated at speeds over 5km/h and deactivated below 5km/h, to allow for efficient loading.
Big news on the Hitachi stand, will be the official launch of its stunning new Zaxis -5 range of medium and large excavators, which will include the ZX250LC-5, ZX290LC-5, ZX350LC-5 and the ZX470LCH-5, which feature the latest Isuzu Tier IIIB compliant engines and a very nice looking new style cab interior.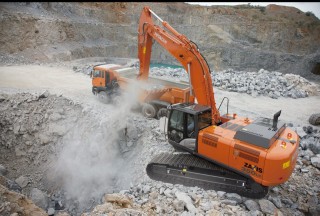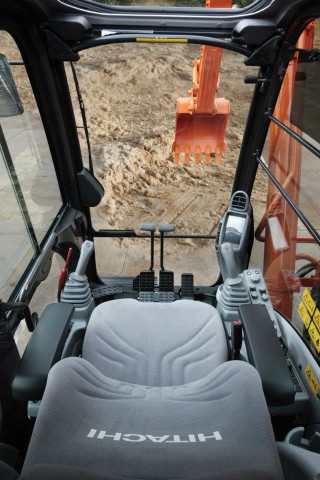 I am also looking forward to getting a good look the latest mini excavators, having just recently ordered a brand new ZX33U from UK dealership, HM Plant.
With a whole host of other new products to see and to review here on the Digger blog over the coming months, including new backhoe loaders from Caterpillar and the latest generation of hydraulic excavators from JCB, we are in for a very busy time indeed!