Last week during a customer open day event at HCME's headquarters in Oosterhout, Holland, one of the company's Norwegian customer's arranged a special stunt, with the help of the team from Hitachi. The customer arranged to operate a new Hitachi ZW310 wheeled loader, which had a banner concealed within the loaders bucket, as the customer approached the waiting crowd he tipped the bucket towards them making it easy for his young girlfriend to read his message.
The banner sweetly read, Sissel will you marry me? Well when a young guy goes to all that trouble she could hardly say no could she! And it gives me great pleasure to report that it was a resounding "YES" from the bride to be!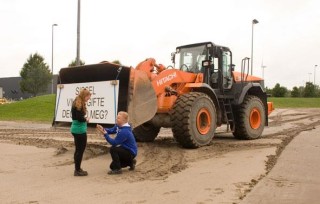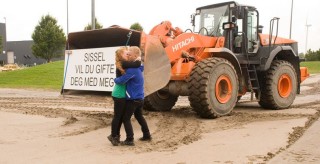 And here is a nice idea for the potential wedding cake, with a nice Hitachi excavator theme.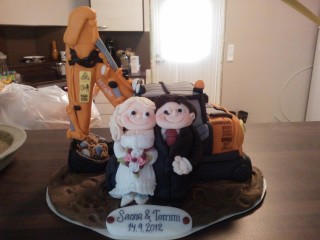 Thanks must go to Julie Ow from HCME for sharing these photos with us.