M Collard Waste Management Services Ltd is using the new model at its facility in Yateley, Hampshire, where it recycles the materials returned from its skip hire business. Supplied by JCB dealer, Greenshields JCB, the JCB 550-80 Wastemaster has been purpose-built by JCB in response to customer demand for a machine with even greater lift performance at reach and rapid loading cycles.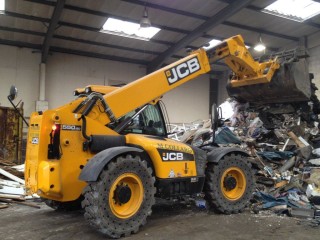 The eight-metre lift height, five-tonne maximum lift capacity 550-80 Wastemaster is JCB's highest capacity Loadall and has been specifically designed for bulk handling operations in heavier duty waste applications.
Mick Collard, Director of M Collard Waste Management Services, said: "We have previously bought second-hand equipment, but when we saw the new JCB 550-80 Wastemaster being demonstrated we knew it was the model we wanted. It is a front-line machine, in use from the beginning to the end of the day and without it we couldn't do the job as effectively. The waste industry is a very, very hard environment and we need machines that can cope with that environment and nobody else comes close to giving us that. JCB listened to industry to find our what we need and has got it right with 550-80 Wastemaster."

Powered by either a 100hp (74 kW) or 130hp (97kW) engine, the machine boasts a highly capable transmission, 140 litres/min Variflo hydraulics and Hiflow pipework for optimised cycle times and auxiliary service performance. It also features noise reduction, improved visibility, air conditioning and reversible fan cooling.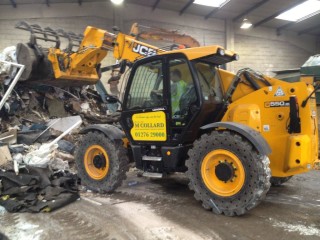 The company is particularly impressed with the reversible fan-cooling feature on the 550-80WM, which it has already used several times. Reversible fan cooling prevents overheating caused by dust collecting in the radiator - which is a major problem for the waste industry. Traditionally to clear dust, an operator would have to stop and leave the machine to use a compressor. With the JCB 550-80 Wastemaster a single button activates the system.

Operating for over 40 years, longstanding JCB customer M Collard Waste Management is a family-run business with sites at Yateley and Reading. It supplies skips to the trade and public, covering an area including Reading, Henley, Windsor, Bagshot, Camberley, Guildford, Farnborough, Aldershot and Basingstoke. The company currently recycles 89 per cent of the waste collected.