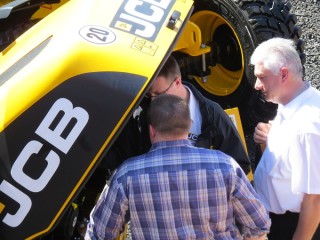 Staffordshire-based JCB commissioned economic research consultancy Oxford Economics to assess the company's economic contribution to the UK, the West Midlands and Staffordshire. Using JCB's 2011 financial results as the basis for their analysis, Oxford Economics came to some interesting conclusions:
•JCB's direct contribution to GDP was £414 million. JCB's supply chain, its R&D activities and total spending by employees (direct & indirect) in the wider economy generated a further £996 million of GDP, making the overall contribution in excess of £1.4 billion.
•JCB's direct contribution to the Exchequer was £145 million in business taxes paid by the company and in income taxes paid by JCB employees. A further £400 million is generated indirectly through the supply chain, which means that total tax revenues are £545 million.
•For every full-time JCB employee in the UK (6,000 in total), another three employees (18,000 in total) are engaged elsewhere in its UK supply chain to support JCB's activities. This means that the company supports 24,000 jobs in the UK.
•JCB's export revenues of £1.35 billion make a positive contribution to the UK's trade balance with the company accounting for 0.6% of all manufactured goods exported.
•JCB spends £669 million on goods and services on its UK-based supply chain, of which £225m (38%) is spent in the West Midlands, with £105m (16% of the total) spent in Staffordshire.

•JCB's total economic contribution equates to 0.9 % of UK manufacturing sector GDP
These conclusions are based on an analysis of JCB's direct impact through its manufacturing and dealer operations in the UK, the indirect impact through its UK supply chain, the induced impact through spending by JCB employees and suppliers' employees, and the wider R&D catalytic impact.
Sam Moore, Director of Consulting at Oxford Economics says: "JCB's focus on manufacturing high value-added products in the UK and exporting to overseas markets makes a huge contribution to the economy, particularly in terms of jobs and tax receipts for the Exchequer. Our analysis shows how JCB's commitment to manufacturing in the UK makes a real difference in the lives of British people."
JCB Chairman Sir Anthony Bamford comments: "JCB may be a global company, but first and foremost we're British and we invest heavily in Britain. I'm pleased to see the economy getting a good return on that investment with 24,000 jobs, £1.4 billion of GDP and tax revenues of £545 million."
Sir Anthony adds: "If companies invest in their operations, it will add value to their businesses, create jobs and drive the economic recovery. This is in everyone's interest, but it's all about confidence. Rebuilding the confidence to invest for the future must be a priority for Government and industry."
Reading thought the report it also explains, JCB employs three times as many people as it did 20 years ago. It's worth mentioning, UK manufacturing jobs as a whole, have fallen by more than 40% over the same time. Also JCB's export revenues of £1.35 billion make a positive contribution to the nation's trade balance, accounting for 41% of all UK exports of civil engineering and contractors equipment.