The smallest machine I had "stick time" on was the 980kg H09D micro excavator, which at only 770mm wide is ideal for small builders and garden landscape contractors. The blade and track frame can of course be extended to 950mm for added stability on the job, especially important when discharging a full bucket over the side.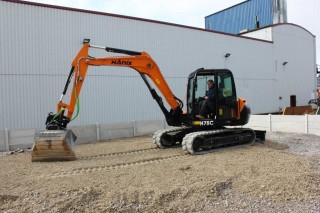 These tiny machine's, which are powered by Kubota's Z602 super mini engine, never cease to amaze me. They have incredible digging power for such a compact excavator. The machine is fitted with servo controls and had an excellent feel to it, I have found with some other small makes that operation can sometimes be a bit "jerky" in this size range but the little Hanix was very smooth indeed.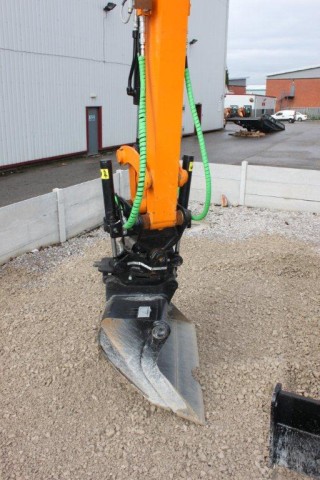 Once again as on the larger H17D we reported on, the boom hydraulic cylinder is located above the boom to avoid any potential damage issues that may arise. As one would expect from a cab-less machine visibility is excellent.
Next machine in the demonstration area was the H36CR a 3,620kg zero-tail swing model. This machine is currently powered by a 19.9kw Mitsubishi S3L2 engine but Hanix tell me over the next two year's all models will be upgraded to the D series range and will all have Kubota engines fitted.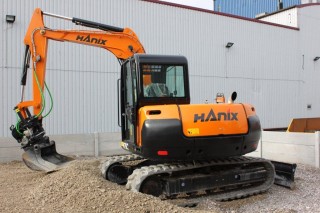 Once again I could not find fault with this machine, it performed well in the dig and its compact size would be a real bonus in confined space operations. This would be a superb machine for council and utility work, some of which I have been involved with in the past, when working on pavements alongside walls and other street furniture obstacles, the capacity to off-set the arm coupled with the zero-tail swing capability would make this model an awesome choice.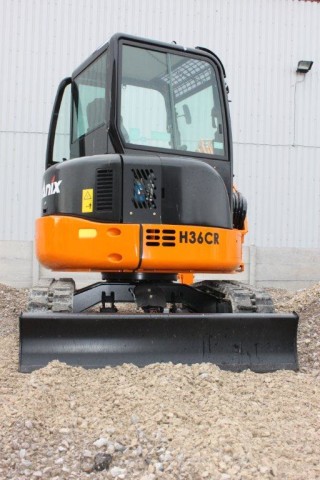 My big surprise of the day was when I was invited to take the controls of a brand new prototype model which will not be officially launched until September this year. The H28DR, which will compete in the 2.8 ton bracket, is sure to become firm favourite in the company's portfolio.
The machine was a dream to operate but I won't say too much about this machine right now, sadly at this stage I cannot show any photos of the new machine either, but rest assured I will bring you more details and photos as soon as I can.
The H28DR is off on field trials in one of the Scandinavian markets to start with and for that reason the machine was equipped with a Steelwrist X04 Tiltrotator, as we reported in an earlier blog post, Hanix Europe Ltd recently appointed Swedish company Steelwrist AB as its Europe-wide preferred supplier of tiltrotator systems, in what I see as a very forward thinking move from the Japanese manufacturer.

Talking of Steelwrist, the very last machine I tried out was the largest offering from the Hanix stable the H75C, which was fitted with a Steelwrist X12 tiltrotator.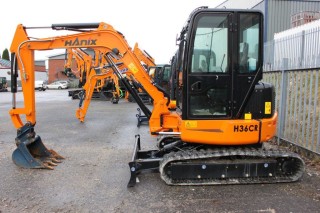 I found this machine to be a well balanced and powerful piece of kit, power comes from a Mitsubishi S4S diesel engine which is rated at 40.8kw, the machine has an operating weight of 7,430kg and when equipped with a long arm has a digging depth of 4,180mm, the machine can also be supplied as a H75CV version which has the two piece articulated boom that is so popular in Central European markets.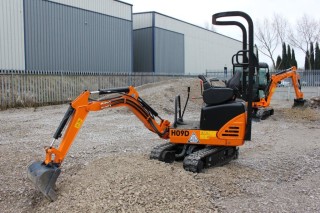 I set out to perform a bit of levelling on the demo plot with the H75C, and I must say it was a joy to use, smooth hydraulics made precision grading so easy and it was great fun to utilise the Steelwrist during the operation, as regular readers of my ramblings will know I am a keen fan of the tiltrotator concept!
I was certainly in my element out on the demo plot in the H75C and I could have quite happily stayed all day in that cab, but sadly time was getting on and I faced a long drive home to the South West on a Friday afternoon, so it was time to park her up and say my farewells.
I would like to take this opportunity to thank Paul Hyslop, Steve Hobson and all the team at Hanix for inviting the Digger blog up to take a look, and for the excellent hospitality I was given.
Hopefully one day in the future, I may be lucky enough to visit Japan, which in my opinion is the spiritual home of hydraulic excavator technology, to take a closer look at the development and manufacturing processes of Japanese excavators.