This past week I have continued to find new ways to approach jobs, and to make difficult tasks easy as my time with the Engcon EC15B tiltrotator entered its second week. Some of the jobs I have tackled included digging out for a service trench for the main gas and electric services. At one point of the job I had to excavate around a corner from the sub-station. This job was made all the more easier due to the fact that you can rotate and adjust the bucket as you dig around the corner of the trench, giving me so much more scope to tackle the job in a 14 ton excavator, where normally a smaller mini digger would have been required.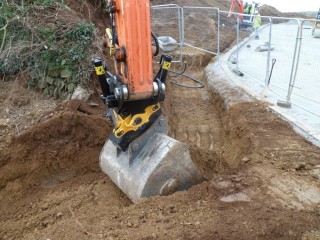 Another job I was assigned to last week was to reduce dig around the hose plots to facilitate for stoning up a scaffold margin. Once again the ability to rotate the bucket proved invaluable as I was able to tamp down the edges up tight against the brickwork saving my banksman a job with his shovel, which I am sure made him very happy!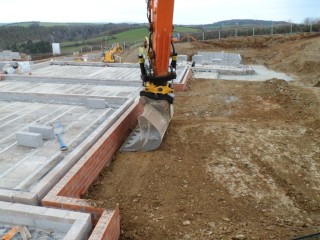 Next came the stoning up itself, once again being able to adjust the bucket angle with press of a roller thumb proved to be very useful indeed, making grading even easier.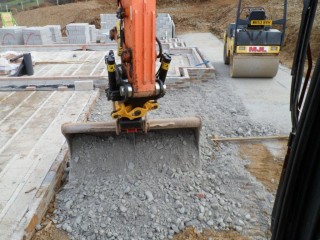 My next task was a topsoil landscaping job at the entrance of the site, finishing of behind and above a newly laid Cornish dry stone wall. Finishing and landscaping has always been my favourite kind of work personally. And of course it goes without saying that the tiltrotator makes this kind of work a real joy to perform. At one section of the job, I had to work around a sign that main contractor Barratts had put up, with the tiltrotator it really is no problem because from any postion you are able to attain the correct bucket angle with which to perform the task in hand, as one passer by commented to me, "its poetry in motion mate, that's some piece of equipment", high praise indeed!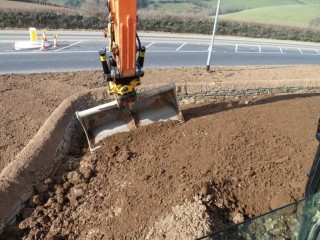 My week was rounded off distributing sand into the service trench and once again on such a simple task you find different ways of doing it with a tiltrotator. I found by tracking along close to the trench and rotating the bucket to suit I could gain a much better view down into the trench enabling me to see just how much sand I was discharging at any given time. It also gives you the option to rotate the bucket around to face shovel mode to load up with sand from a forward tipping site dumper, you can then bring the bucket back around to the correct position to discharge the load.
One of our English followers on Twitter last week asked me if I thought tiltrotators would take the art out of digger work? My response to that was, no not at all, I think it helps to improve your skills and indeed takes them to a whole new level.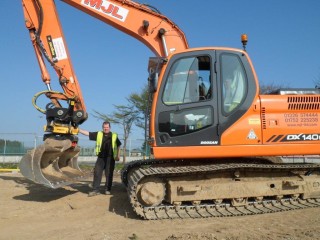 I have been operating machines for nearly 35 years now, but as far as I am concerned everyday is a school day and you never stop learning. I am finding this out during my time with the tiltrotator, and I will share more of my Engcon tiltrotator experiences with you here on the blog soon.