Caterpillar is a company that is synonymous with track type tractor production. In 1904 Benjamin Holt tested the first steam driven track type tractor, and in 1906 the first production model was sold. The product was a revelation and helped the Holt Company to prosper, before eventually merging with the C. L. Best tractor company and forming what we all know today as the Caterpillar Tractor Company.
The new D8T is the latest model from this fine heritage, featuring a whole host of improvements and innovative designs to bring the customer more quality, productivity and performance, whilst lowering fuel consumption and reducing emissions.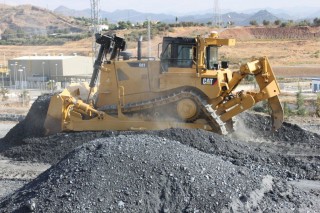 The D8T uses the Cat C15 Acert engine which meets the EU stage IIIB emissions standards, has a net power rating of 231kw/310hp. This engine blends an innovative intake-air-management system, using optimized turbo charging, with electronically controlled fuel-injection that precisely shapes each combustion cycle through multiple-injection fuel delivery.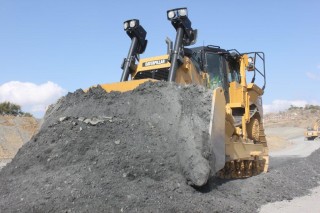 The Cat NOx-Reduction System continually diverts and cools a small volume of the engine exhaust gases and then returns the cooled gases to the combustion chamber. This process reduces cylinder temperatures and, consequently, lowers NOx formation. The CEM, a compactly packaged after treatment unit, includes a Diesel Oxidation Catalyst (DOC) and a Diesel Particulate Filter (DPF).
The DPF removes particulate matter from the exhaust stream. It is designed to operate with little maintenance and little attention from the operator. Under most operating conditions, engine exhaust is hot enough to oxidize soot within the filter through a passive regeneration process. However, if conditions are such that supplemental regeneration is needed, the Cat Regeneration System elevates exhaust gas temperatures to oxidize soot within the DPF.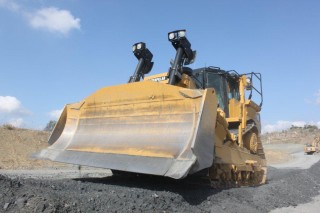 The Cat Regeneration System is designed to work transparently, operating automatically without any interaction needed from the operator and regenerating when conditions are optimal.
Ground level service accessibility has become a top priority for many manufacturers these days, and as an operator I can really appreciate the benefits that ground level service centres can provide. In this photo we can see Cat's demonstrator Andreas, pointing out the easy access to the battery disconnect point and engine shutdown switch, inside the panel one can also find optional lighting switches which facilitate easy and safe access/egress to and from the machine in dark conditions.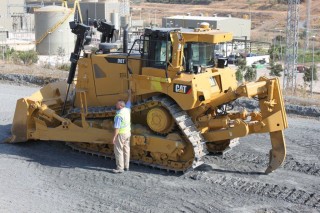 One can also see the improved steps and grab bars which further improve operator access, in addition the fitment of new work platforms with built in safety treads, make for safer servicing and cleaning of the all new single unit coolant radiator, hydraulic oil cooler and air to air after cooler as well as improving access for window cleaning and re-fuelling operations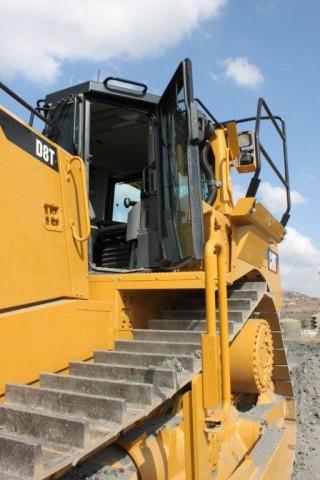 Later on in the day I was given the opportunity to take to the controls myself. It has been many years since I operated a dozer, the last time probably being back in 1974 when as a 13 year old boy I used to spend weekends working on a tip operating a Caterpillar D6C! I was impressed by the level of comfort offered to operators on these powerful machines today. The high level of visibility from the seat in all directions was excellent, even when reversing the fitment of new mirrors to the top of the blade lift cylinders is a good way to keep an eye on things, in addition to the reversing camera. The driving position was ideal too even for someone of such a small stature as me, thanks to the fully adjustable air suspension seat.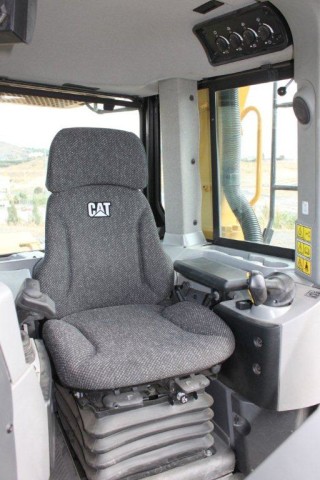 After a short introduction to the controls from Andreas, I was away, first thing that struck me was just how quiet this new engine is, once in the push you could just feel the awesome power the D8T has at its disposal. The D8T has more weight than its predecessor and its oscillating undercarriage provides much better contact with the ground at all times giving greater traction, and improved pushing power, this was clearly evident when I got a blade full in front of me.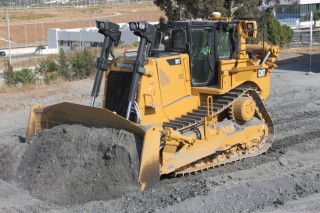 The controls were a delight to use, with the newly designed travel direction and steering joystick situated on my left and the blade lift and tilt control on my right, in no time at all dozing principles started coming back to me and the fully automated air conditioning system was making it a very desirable place to be in the hot Spanish sunshine.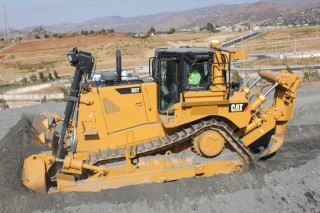 Sadly after a few pushes it was time to get out and let someone else have a go, such is the popularity of Caterpillars "stick time" events there is always someone else waiting to have a go!
These machines also feature Cat Grade Control, which allows the operator to doze efficiently without the need to perform "shaving " passes, which results in less ground engaging tool and undercarriage wear, and enables the operator to work faster to the required grade, making his job a lot easier.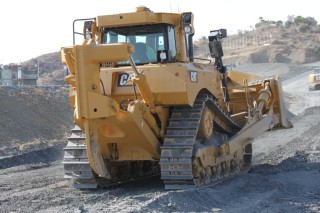 Cat Grade Control can also be used in conjunction with AutoCarry, a feature that automates blade lift control to maintain a desired blade load. It allows the dozer to consistently carry as much as material as the machine is capable, which once again simplifies the operators work.
In summary, a whole host of improved features, in terms of fuel consumption, productivity improvements, operator comfort and safety, making these ever popular dozers even more appealing to customers around the world.