The Komatsu group was established in 1921 in Komatsu City, Japan. There are currently 144 companies in the group and they employ around 38,518 employees worldwide.
Komatsu UK based in the North East of England town of Birtley, was officially opened in 1987 by HRH Prince of Wales, seen here at the official opening ceremony.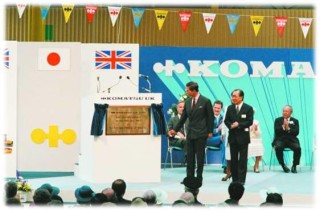 The factory covers some 200,000 square metres and includes some of the latest high tech manufacturing tools; including 17 automatic welding robots and 5 CNC cutting machines.
The main items that are fabricated at Komatsu UK are booms, counterweights, revolving upper frames and track undercarriage frames. The North East is a hotbed for skilled metal work fabricators and welders, so its no coincidence that the company have some of the best in the business. Here we see an example of PC160-8 boom making its way along the production line.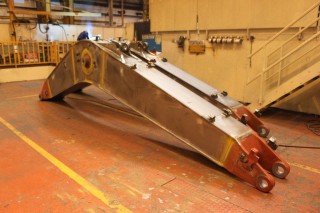 And further down the line we see examples of track frames on the assembly line. I must say the quality of the robot welding was quite simply awesome and it was a pleasure to see these items being put together. As an operator sitting in these machines all week, it really is an eye opener to see how much work goes into putting them together!
Once the upper frames have been painted, the cabs are then fitted. On the day of my visit I was extremely lucky to see a machine on the line which has been painted in red for a German customer.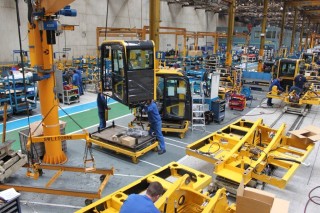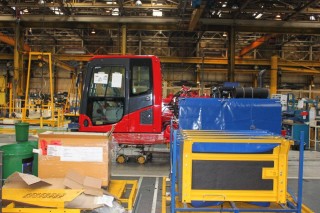 Once the cabs have been fitted, the engines, which are all Komatsu's own models and are imported from Japan, are next in line to join the base machine.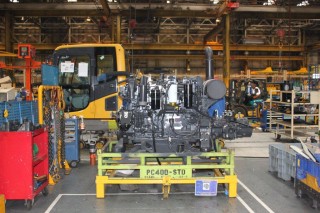 Meanwhile on the track frame assembly line, the track chains and pads were being fitted in situ.
13 conventional excavator models are manufactured at Birtley, from the 13 ton PC130-8 up to the mighty 80 ton PC800-8. I was lucky to see one of the PC800-8's nearing the end of the assembly line as it was being prepared to receive its boom and dipper arm.
Other models produced at Birtley include 4 High Reach Demolition models- PC240HRD-8, PC290HRD-8, PC350HRD-8 and as seen here at the demonstration plot, a PC450HRD-8.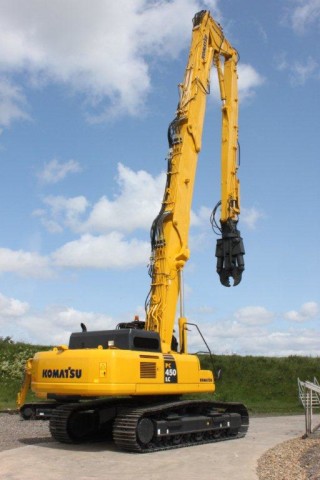 Super long reach machines are also produced at Birtley and include the PC130SLF-8, PC210SLF-8, PC240SLF-8 and PC350SLF-8.
In part two, I will concentrate on my time at the controls of one of the Dash-8 models at the demo area. And give details of an opportunity to win a Komatsu PC210-8 model in a great competition.
The Digger blog would like to thank Vince Porteous and Mike Atkinson for their time, hospitality and expert knowledge during my visit.