This fantastic old photo shows a brand new Ruston Bucyrus 19RB, which had just been picked up from the factory in Lincoln. Owned and operated by George Sanders Contractors from Manchester, it's on the back of the companies own low loader, no doubt Digger Blog reader and road transport expert Steve Rush will be able to identify the tractor unit for us.
One of the smallest Ruston Bucyrus machines in action now, in this stunning photo, in the shape of a 10RB in dragline configuration at work under a very threatening looking sky. First produced in the mid 1930's, production continued in various guises, including shovel, skimmer, backhoe and clamshell crane, until 1969 when production ceased.
One of the all time greats of the UK construction market for many years was the Ruston Bucyrus 22RB. First introduced in 1950 the machine was to become the main excavation and crane choice of many contractors around the country. By the time production was wound up in the mid 1970's way over 10,000 models had been produced.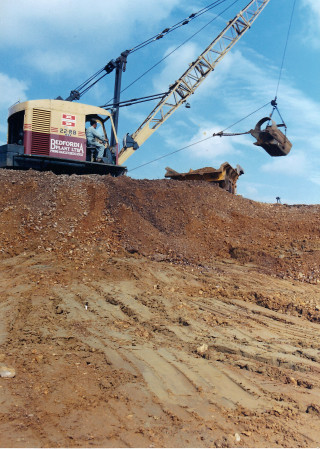 Two photos here of a less well known 33RB, once again made in Ruston Bucyrus's UK factory in Lincoln, these machines could be identified by the split front windscreen, It took great skill to operate these machines, and a lot of hard work too, especially when you bear in mind all controls were mechanically operated, and not a servo control in sight!

Note also in the first photo, the Priestman Mustang 108S 12 ton class hydraulic excavator. I drove one of those for Wimpey Plant in the late 70's early 80's and at the time it was a cracking machine.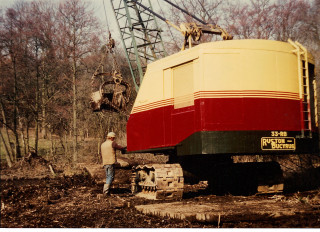 And finally in this batch one of the stalwarts of the worldwide mining scene for many years, the Lima 2400-B. The 2400 was first launched in 1949 and built up an awesome reputation for being a solid and reliable piece of kit.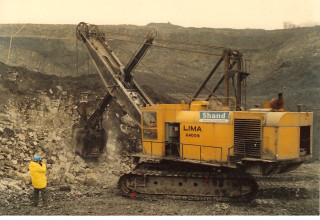 It was popular with Caterpillar customers too thanks to Lima's choice of engine for the machine, a 473 hp Caterpillar D397 unit. The B series was officially presented in 1969 and continued in production until Lima ceased trading around 1981. The machine in these photos was owned and operated by UK mining contractor the Shand Group.