We left the greenhouse construction site where we had seen and test driven the latest HMK220LC Gen Series machine, and after a short refreshments break at the owners office, we headed on again to take a look at the next machine.
Hidromek area manager, Akay Ergun, wanted to show us some earlier examples of the company's machines which were working in the region, this model was a 2007 HMK220LC -2 and was owned by Beskonak Hafriyat. Cosmetically this machine looks like it's had a hard life with a fair amount of scratches to the back end and bodywork.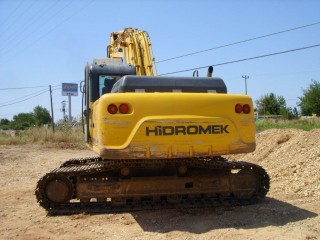 I was invited into the cab and given the opportunity to have a play on the machine. There was nothing constructive to do with the machine as such so I just had a dig in some piles of earth that were lying around where the machine was parked. The machine performed well and had very little wear in the linkages and appeared to be mechanically sound. One thing I did notice on my tour around the sites was that they don't seem to have much variety in buckets, in fact most of the machines I saw only had one 900mm bucket on site, whereas in the UK we tend to have 5 or 6 different size buckets on site, including grading/re-handling buckets, of which I saw none in Turkey.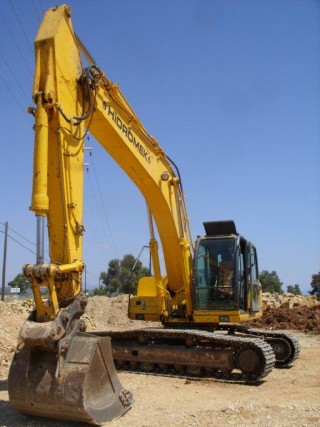 Following on from here, we were taken to see a HMK140W "rubber duck", that was working on a road job locally. This machine was about a year old having been built in 2010. The operator decided to take the machine to another area down the road and off the highway where I could use the machine on some piles of earth that had been tipped there.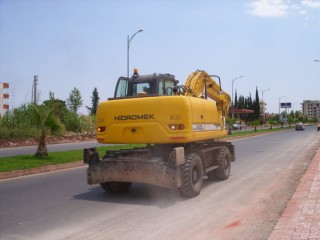 It had been a few years since I last operated a wheeled excavator, but after the initial nodding and bouncing on the tyres, I soon got back into the groove. Once again what can I say, I was totally impressed with the smoothness of the controls, and the machine certainly had a good feel to it when performing grading on the fine soil, plenty of speed and power too from its 4 cylinder 124hp Mitsubishi engine, making it an ideal machine for road maintenance and construction jobs where versatility and manoeuvrability are essential. There is some video footage of me operating this machine which I will post up in due course.
Next stop was a visit to check out one of Hidromek's backhoe loaders in action. The HMK102S is an all wheel steer machine which has been developed during the company's 30 years in the backhoe loader industry; this particular machine is owned by local contractor Sakaryali.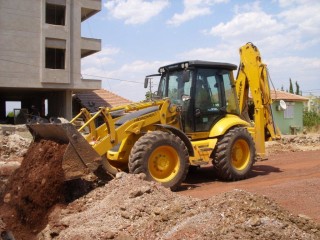 The HMK102S is powered by the ever popular Perkins 1104D-44TA four cylinder engine with a power output of 100hp. These machines use many components that are familiar to UK customers and are well proven in the field. This machine looked powerful and had a small turning circle for such a long machine.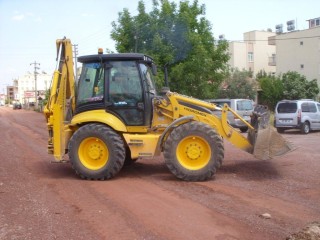 I was invited to take to the controls but not being the biggest fan of backhoe loaders as an operator I declined on this occasion as the team on the ground did look rather busy and I am sure they didn't want some camera toting English man holding them up!
Following on from a really excellent tourist style visit to the Duden waterfalls, the Hidromek team took us to the last site visit of the day, to see another example of the most popular seller in the Turkish market a 22ton HMK220LC, this one was a 2005 model which is owned by contractor Goktas Hafriyat, and was equipped with a hammer, the operator was breaking out rock in an excavation for what I assume would be underground car parking below a block of apartments.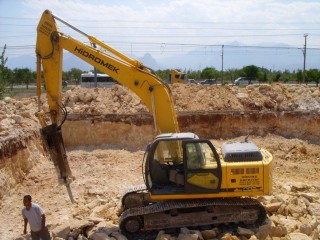 Once again Akay invited me to take to the controls but access down into the excavation was tricky especially when not wearing work boots! So the machine driver backed the machine over to the edge of the excavation and I hopped onto the counterweight of the machine and gained entry that way!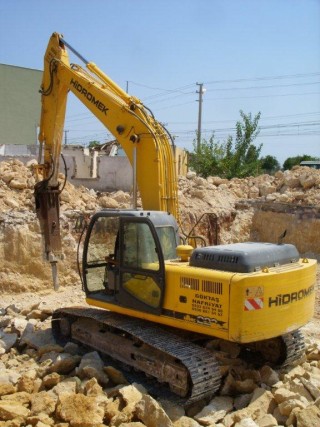 I jumped into the cab and it was incredibly hot, I asked the driver if there was any air-conditioning and he laughed at me and said "no we are Turkish"! Anyway I had a quick go on the machine performing a bit of breaking, but in no time I was drenched in sweat so decided it was time to make a retreat for the coolness of the air conditioned car.
We were then treated to a tour of the new and old town of Antalya which offered us some amazing photo opportunities, before heading back to Hidromek's regional office for a much needed drink and also a last chance to snap some shots of a brand new HMK220LC Gen Series which was being kept in the shade at the depot.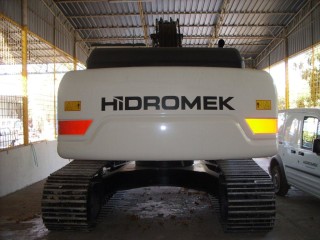 We were then dropped back to our hotel at the end of a very interesting and productive day. I would like to take this opportunity to thank Levent Karaagac at Hidromek head office in Ankara and Akay Ergun and his team in Antalya for the excellent hospitality and for making our visit such an enjoyable experience.