South West Excavations was started in 1976 by Phillip Cross, who originally bought and sold agricultural tractors and machinery to local businesses throughout Cornwall. In the late 1980's, Mr Cross won contracts to work on major road building projects in the South West of England and also in the Republic of Ireland, including projects such as the St Budeaux, Saltash, and Blackwater bypasses. After many years on road building projects Mr Cross decided to go back into buying and selling, this time in the construction machinery business.
Today the company not only sells machines, but hires them out to national businesses throughout the United Kingdom and Republic of Ireland, and they currently have a fleet of over 200 machines all of which are available either to buy or to hire. During my visit I saw 4 new JCB 3CX Eco backhoe loaders, which have recently been added to the fleet and are all available for hire.
Further on up in the yard was this 2001 Caterpillar D6R LGP dozer with straight blade, which looked as if she has seen a fair bit of action judging by the grousers!
Around the corner from the workshop I came across another machine from the Caterpillar stable in the shape of this Cat 963B 160hp tracked loading shovel, these French built models were first introduced in 1994 and production ran until 1997 when it was discontinued and replaced with the 963C.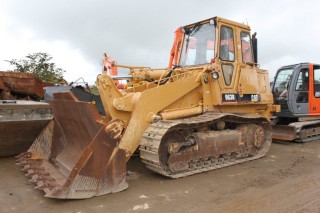 South West Excavations also deal in Hitachi machines, and two examples of the Japanese manufacturers wheeled excavators were present in the yard. A 2009 Zaxis 190W, and a 2008 Zaxis 170W both of which are available for sale or hire.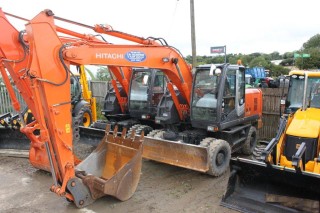 There was a time when Mr Cross was selling Hyundai machine's in the early days of the Robex machines, and it came as no surprise to see a later Dash 7 series 210LC-7, which I believe is a 2006 model out in the yard.
Always an interesting spot is the machine graveyard area in the yard, where some of the older trade-ins are kept either for re-selling or breaking. In this shot we see an old Poclain 220B that has been lying in the yard for some time now. It is actually owned by Mr Paul Martin, who we featured in the Old Poclain Excavators at Rest blog earlier in the year, with his collection of other old Poclain excavators. When he eventually moves this machine I am hoping to visit it again for another photo shoot.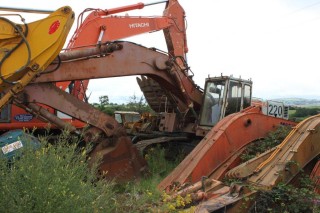 Another old machine that has seen better days is this Liebherr 912 lying in amongst all the old dippers and buckets!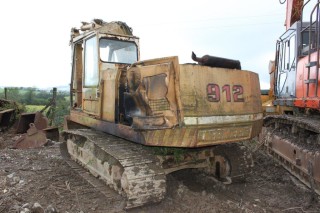 We thank the team at South West Excavations & Plant Sales for allowing what they probably thought was some digger geek taking a nose around the yard ha ha!