We know you don't like being bogged down with techno-babble here on the Digger Blog, so I keep it brief. On the Volvo stand the new D series excavators were very prominent. The wheeled excavator range has recently been upgraded to D series status, with the four model range consisting of EW140D, EW160D, EW180D and the EW210D which range in weight from 14 tonnes to 21 tonnes.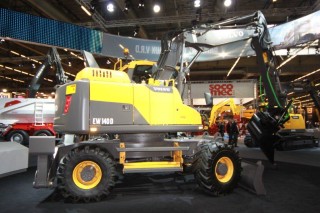 The EW140D was proudly displayed sporting a tiltrotator system, which are continuing to gain popularity all over Europe, as end users finally begin to get the message about these fantastic pieces of kit. I was told by an industry insider at the show that many manufacturers are now fitting the specialist joysticks required for tiltrotator systems as standard, this was evident in a number of machines I sat in at the show.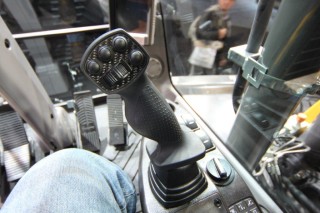 Volvo also showed a number of examples from its D series middleweight tracked excavator range. There are currently 5 models in this weight class, which spans from 13 to 25 tonnes, which are the EC140D, EC160D, EC180D, EC220D and the EC235D. Here is a shot of the stunning looking EC220D model.
Volvo also chose Intemat for its European launch of the G900B series of motor graders. First launched into the North American market in 2011, these machines feature new engines, rugged frames, and sophisticated transmissions. The model on display in Paris was the G946B, which is the second largest in the four model range and features all wheel drive. It is powered by a Volvo D8H engine that develops 173KW (232hp).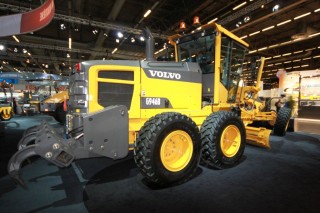 Outside on the JCB stand two new mini excavators were launched, the 8018 CTS, which competes in the popular 1.7 tonne class and the 8026 CTS which weighs in at 2.7 tonne.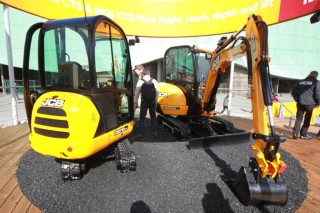 Both machines are conventional tail swing machines (CTS) which many end users still prefer, depending on what kind of work they are going to undertake. The 8026 CTS is claimed to be more efficient than the existing 8025 model, thanks to the lower power rating of the 3 cylinder 18kw (24hp) Perkins engine, which drives a "Nachi" variable displacement hydraulic pump. This new machine was put to good use in the stunning display that we witnessed in front of the stand!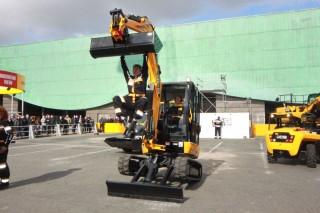 Over at the New Holland stand a prototype machine was attracting a lot of attention. The E140C SR 14 tonne class short radius machine looked to be a useful piece of kit. And as usual it was getting a lot of interest from our camera friendly Chinese friends!
I found it quite amusing the way they all take photos of every little minute detail, from door hinges to close ups of welding on a whole host of machines on display at the show!
Talking of short radius excavators, over on the Case stand the two new C series models were on display, the 14.3 tonne CX145C SR and the 24.1 tonne CX235C SR. According to Case, these machines have been designed and built in Japan to meet the specific requirements of European operators and feature the latest in Tier 4 Interim engine technology, which are said to offer a 17.5% fuel consumption saving over previous models, with up to 7% faster cycle times.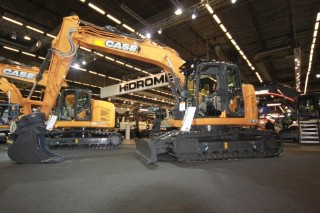 I have operated quite a number of Case CX machines over the years, and have always found them to be excellent machines. Hopefully I will get to try out one of these latest models in the not too distant future.