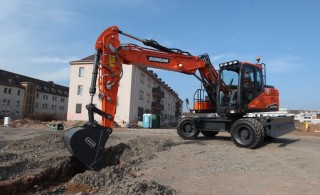 The arrival of the mid-sized machines follows on from the larger -5 models and they share the same kind of styling.
Of the new mid-size machines, Doosan plans to have these ones on display in Munich in April:
DX140W-5 wheeled excavator (pictured above)
DX165W-5 wheeled excavator
DX190W-5 wheeled excavator (below)
DL200-5 wheeled loader
DL250-5 wheeled loader
In addition, although not at the show, the following new models will be introduced in the second half of 2016:
New comfier cabs, improved performance and improved fuel efficiency are all promised.
Other new machines on the Doosan stand will include the DX140LCR-5 (pictured below), a 15-tonne reduced tail swing crawler excavator powered by the Stage IV compliant Perkins 1204F engine. Doosan says this gives it a 6% increase in power over its previous offering, with an output of 85.9 kW (115.3 hp) at 2000 rpm and a 3% increase in torque. Swing torque has also been boosted by 28%.

New systems and functions include programmable auto-idle and an electronic power optimising system (e-EPOS), which Doosan says provides optimum power and fuel efficiency via four power modes (eco, standard, power and power+).
There are also four work modes (digging, lifting and two hydraulic tool modes) optimising power and fuel consumption for each applications. In the lifting mode, for example, the increased pump torque, low engine rpms and automatic power boost provide extra muscle when handling items such as pipes and concrete barriers.
Doosan will also be giving a debut to its new 5.8-tonne DX57W-5 wheeled excavator (below), which is Stage IIIB compliant. There is a new cab, new display and the increasingly standard three power modes (eco, standard and power) and three work modes (digging, breaker and shear).
The maximum digging depth of the DX57W-5 is 3795 mm, the maximum digging height is 6170 mm and the maximum reach at ground level is 6400 mm.