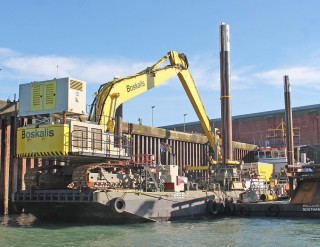 Main contractor for the project, which is designed to enhance port capacity and kick-start local regeneration, is a joint venture between VolkerStevin and Boskalis Westminster – VSBW. Various items of floating equipment has begun arriving in Dover to undertake initial harbour dredging to remove soft sediment. Up to 20 different VSBW vessels over the next eight weeks as it enters the harbour dredging phase this month prior to the start of piling.
The first vessel to arrive was the Kreeft, a self-propelled crane barge which is fitted with bespoke attachments for identifying and removing obstructions.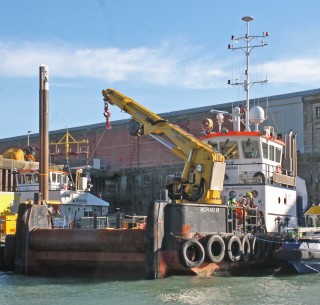 Dredging vessels include two trailing suction hopper dredgers, the 1,500m³ capacity Sospan Dau and one of the 4,500m3 Causeway class vessels. These will dredge, remove and relocate soft sediment to the designated offshore licensed disposal area.
Harder material will be dredged with the MP40 backhoe dredger, which will transfer dredged material to the 800m³ self-discharging split hopper barges Wadden 1 and Wadden 4 for removal to the disposal area. The trailer dredgers and split hoppers will be steaming regularly between the port and the disposal area ahead of the initial piling programme.

VSBW project director Stuart Eckersley said: "Starting the main dredging activities marks an important milestone for the project. We will be seeing a range of specialist vessels operating in the harbour from Boskalis Westminster's extensive dredging fleet."
Approximately one million cubic metres of silt, gravel and chalk will be removed from the harbour to allow for the creation of a purpose-built cargo and logistics facility, a new marina and a transformed waterfront.