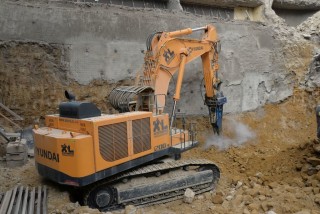 Démolition et Terrassement XL from Nidderkuer in Luxembourg has been using its Hyundai R1200-9 excavator in the financial heart of Luxembourg City since March 2017, preparing the site of the new offices of the Bank of China. This is the first Hyundai machine of this size to be sold in Europe.
At the junction of Boulevard Royal and Rue Notre Dame, the excavator is breaking reinforced concrete foundations with a 7-tonne hydraulic breaker. The first task to complete is a 35-metre-deep, six-storey underground parking structure.
The R1200-9 is working on this project alongside a Hyundai HX480L.
Carlos Alberto Rodrigues de Sousa, the owner of Démolition et Terrassement XL, already had 12 Hyundai machines in his fleet when he hooked up with HMB, Hyundai dealer for Belgian and Luxembourg, at Bauma 2016 to close the deal for the latest addition.
The R1200-9 comes with a 7550mm mono boom and a 3400mm arm. Bucket capacity is 6.7m³. It is powered by a 567kW, 23-litre turbocharged diesel engine. Standard equipment includes double grouser shoes measuring 710, 800 and 900 mm in width. For this particular demolition job, the client was looking for narrow shoes, which will also be used for the excavator's next assignment at a quarry near Luxembourg City.
The Computer Aided Power Optimization, or CAPO, system is designed to ensure optimum performance from the engine and the two hydraulic pumps. The different power modes serve specific working loads. The system also has auto deceleration and power boost.

As standard across the Hyundai range, the operator has the option of selecting the power mode appropriate to the job, materials or attachment. The three power modes ensure maximum engine performance, high speed and optimum fuel efficiency. Power mode ensures maximum machine speed and power for maximum productivity. Standard mode provides reduced engine speed for optimum performance and improved fuel economy. Economy mode adapts flow and engine power to specific load conditions for maximum fuel efficiency and controllability.
There is also user mode, which allows the operator to customise engine speeds, pump output, idle speed and other machine settings such as hydraulics pressure and volume for the attachments according to personal preferences.
An auto boom/swing priority function adapts the ideal hydraulic flow balance for boom and swing operation to the application at hand. CAPO monitors the hydraulic functions and continually adapts hydraulic flow to provide maximum performance and productivity.