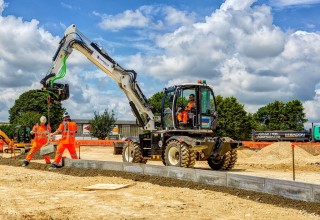 The Vinci subsidiary was Lincolnshire County Council's main contractor on the £5.4m Peppermint Junction project in Holbeach.
The project included the creation a new three-arm roundabout at the junction of the A17 and the A151 to replace the previous T-junction. Eurovia also built a second roundabout to provide access to new housing and commercial development site.
The JCB Hydradig 110W – complete with factory-fitted Steelwrist tilt rotator – was used for various jobs on the site, including materials handling, concrete breaking and kerb placing as well as excavation.

Eurovia Contracting's divisional fleet & plant manager, Chris Forrest, says: "The Hydradig gives us true versatility with the breaker and the ditching buckets. Functionality is increased even further with the Steelwrist – you've got the option to break out one day, ditch the next and it's fantastic for fork operation too. It benefits us in a lot of ways. We've now experienced the fantastic visibility it gives on site, which improves our health and safety performance, and we don't have to hire in more kit, so we've been more cost-effective on site."
The operator of the machine at the Holbeach site was Ian Walker. He adds: "Visibility is a lot better than with other machines – and that's all-round visibility, you can see everywhere, whereas you tend to find on other excavators you get blind spots. You can also see the footprint of the machine better, so obviously you have more chance of seeing if somebody's working next to you. For daily checks everything is where you need it to be – at ground level – so you can get to it all easily."