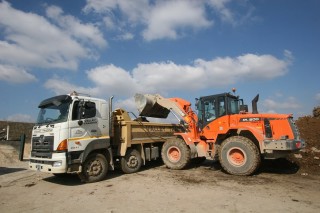 Valley Trading, run by the husband and wife team of Reino and Barbara Kahkonen, processes about 50,000 tonnes of material a year at its site on the Babdown Industrial Estate near Tetbury.
It also supplies aggregates and hires out skips, tippers and grab lorries. But it is for handlign waste that it needs the new loader.
Reino Kahkonen says he has good experience with another Doosan machine and is happy with the service he gets from the local dealer, Kellands.
The new 2.0m3 capacity DL200-3 wheel loader joins a 2.5 m3 Doosan DL250 wheel loader that's been operating at the site for more than five years now.
The wheeled loaders are critical to the operation as they are constantly loading and moving different materials as they arrive, are processed and then dispatched. The machines are working pretty much 7am to 5pm, six days a week.

"I think the DL200-3 wheel loader is a really nice machine that has plenty of power to dig into our material stockpiles," Reino says. "I am also delighted with the support we receive from Kellands which is a good company to deal with."
He says that the machine's operator, Mark Rudge, agrees with him. "He says he finds it is a quiet and comfortable machine," Reno adds.