Otto Strasser worked as a field service engineer for the American, Milwaukee based P&H (Pawling & Harnischfeger) Mining Equipment Division from 1974 to 1985. Otto who now lives in Switzerland, worked out of the company's European service base which was located in Dortmund, Germany, an area which has become synonymous with heavy mining equipment manufacture over the years. The Dortmund service base covered Europe, Middle East, including Iran and Africa, and all other country's north of the equator.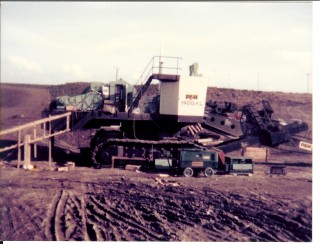 In the late 1970's, around 77-78, Otto was assigned to assemble the first P&H 1900AL mining shovel to be delivered into the UK to Wimpey Mining, at the Maesgwyn open cast coal site in South Wales.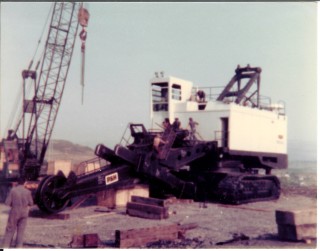 Building these mighty mining machines is a massive job and it came as a surprise to me to hear that back in those days P&H only dispatched one field engineer to the assembly job, who was solely responsible for the entire construction process including unloading, assembly, welding, electrics and even instruction on machine maintenance and operation techniques for the new operators!. However Otto did point out that he had a support team of Wimpey employees who were on hand to assist in the assembly.
The 400 ton P&H 1900AL electric mining shovel was at the time a cutting edge machine, and could carry a dipper arm bucket capacity of some 12 cubic yards. As well as assembling this model for Wimpey's at Maesgwyn, Otto also put together other machines in South Wales for Taylor Woodrow Mining, and also at Blind Wells open cast coal site near Tranent, Firth of Forth, in Scotland.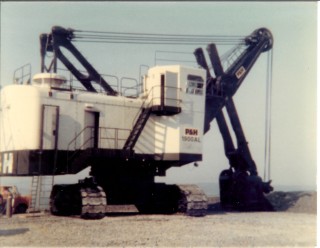 This is the scenario that continues to this day as teams of highly skilled engineers are currently in action putting together the latest large mining machines around the country. As I write this, a team from Finning, including our good friend Scott Girvan, are putting together the latest Cat 6030 to arrive in the UK at the Hillhead quarry, in preparation for the exhibition later this month.
We thank Otto Strasser, seen above back in his P&H days, for getting in touch with us and sharing his photos and memories with us here on the Digger Blog.