Equipment rental specialists Flannery Hire of Leeds has purchased a new fleet of Caterpillar 308D SB RT Mini Hydraulic Excavators from Finning. The Cat 308D SB RT's were acquired specifically for rental to appointed contractors working for various water authorities currently undertaking the latest round of their asset management programme.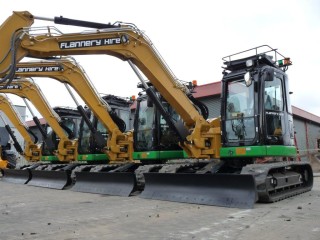 However, far from a straightforward deal, a requirement of the sale by Flannery Hire was that the Cat 308D SB RT mini hydraulic excavators' hydraulic systems should be supplied with biodegradable hydraulic oil. Priding itself on customer service and its expertise in Caterpillar equipment Finning fulfilled the order and delivered the machinery in the condition requested.
Flannery Hire made the request after working closely with its clients and understanding the environmental requirements that are now demanded from equipment working within the water industry.
Talking about what the Cat 308D SB RT's have done for Flannery Hire and what it is like to deal with Finning, Director of Flannery Hire, Pat Flannery said: "Flannery Hire did not hesitate to approach Finning due to previous experiences with the company and with the Caterpillar equipment itself.
"Flannery Hire was attracted to the Caterpillar excavators because of their tremendous build quality and renowned reliability; this coupled with outstanding back up support from Finning gives the business a product that it can rely on in today's demanding hire market.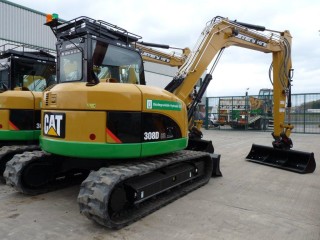 "When it came to Flannery Hire's unusual request, that the Cat 308D SB RTs' hydraulics systems operate using biodegradable hydraulic fluid, I knew Finning would be able to provide Flannery Hire with the equipment at the specification it requires. Finning has reputation for going that extra mile to fulfil its customers' requirements and did not disappoint, living up to Flannery Hire's expectations.

"This practice has now become routine for Flannery Hire with 75% of the fleet operating using biodegradable hydraulic fluid. This coupled with utilising machinery that utilises efficient engines, like the Tier 4/Interim IIIB engines in the Cat 308D SB RT, gives our customers a real 'green choice' when hiring a machine that is kinder to the environment.
"Apart from the green aspects of the machines there were other criteria that the Cat 308D SB RT Mini Hydraulic Excavator fulfils that Flannery Hire looks for when it is purchasing any new equipment to add to the fleet.
"While the Cat 308D SB RT is small enough to be very manoeuvrable and can get to places larger hydraulic excavators can't, it is also large and powerful enough to be able to load large tipper trucks.
"This gives the machines the versatility to be used on almost any sized job and to be put into almost any application where a hydraulic excavator is required making the Cat 308D SB RT a great all round machine.
"From a business perspective the Cat 308D SB RTs' are perfect for a rental specialist business like Flannery Hire. With the equipment being of such an adaptable nature they are ideal for our company as we supply to a varied range of customers and projects throughout the North of England.
"Not only are the machines reliable and highly productive, they also have many other plus points on their side, such as good operator comfort and ease of operation. More importantly they have excellent fuel economy, something that is important to Flannery Hire and is becoming increasingly important in the current market too."