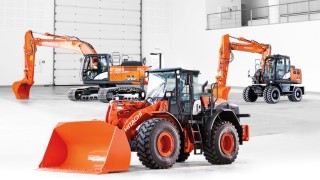 Hitachi Construction Machinery (Europe) – HCME –boasts that the new Stage IV compliant models are designed to be reliable, durable and versatile.
HCME general manager Burkhard Janssen says: "We are proud to introduce the latest phase of -6 machines to our customers. These models have been developed to perfection in Japan, using market-leading technology, to meet the needs of the European construction industry and offer the lowest possible cost of ownership."
The Zaxis-6 range of crawler excavators includes five new medium excavators, from the ZX130-6 (below) to the ZX210LC-6, and two new large excavators, the ZX690LCH-6 and ZX890LCH-6.
There is also the new ZX240LCN-6 (signifying a narrow undercarriage that makes it easier to transport) and the short-tail swing models, ZX135US-6 (below) and ZX225USLC/USRLC-6 (for working in confined spaces).
Hitachi says that these models incorporate more than 200 redesigned features and components.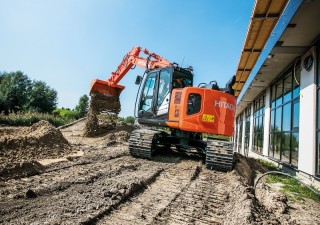 The Hitachi hydraulic system is claimed to reduce total hydraulic loss and help to lower fuel consumption by up to 12% (that's on the ZX190LC-6 in ECO mode). To meet EU Stage IV requirements they have diesel oxidation catalyst (DOC) and selective catalytic reduction (SCR) systems. The SCR system injects urea through a mixing pipe into the exhaust gas to reduce nitrous oxide.

Other updates include the in-cab console, with resin casing, better connections on the hydraulic return pipes to reduce oil leaks, wider opening engine covers for better maintenance access, and reinforced covers on the platform walkway to make them safer.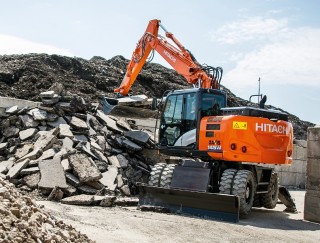 Hitachi has also launched four new Zaxis-6 wheeled excavators, including the new short-tail swing model, ZX145W-6 (above). These have more than 100 updates, HCME says, from tiny seals and O-rings to the reinforcement of the upper structure, boom and arm, as well as the new Stage IV engines and emissions after-treatment technology, of course.
These also have an improved hydraulic system and have the same attachment support system as the Zaxis-6 crawler excavators. The wheeled excavators have reinforced, larger cylinder covers, and high ground clearance to reduce damage from obstacles.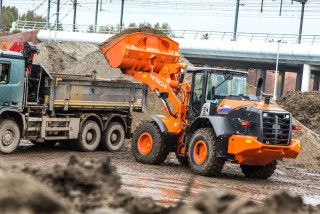 The latest ZW-6 wheel loader from Hitachi is the ZW180-6 (above), which is said to be one of the quietest on the market. Here, the exhaust pipe and air intake have been moved and the hood/bonnet made curved for better visibility from the cab. A rear-view camera and monitor are also standard.
Its Stage IV-compliant engine has a cooled exhaust gas recirculation (EGR) system, a common rail-type fuel injection system and a DOC.