Having had some experience of using the Wedgelock manual quick hitch system from Harford's on some Takeuchi machines in the past I knew it would be a good unit to take a look at.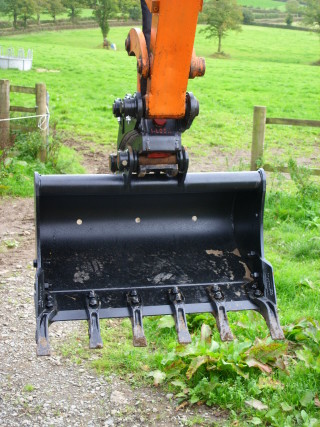 I must say I was not disappointed with the product when I finally got to use it for the first time yesterday. It's a very strong looking hitch with very good build quality, and of course the built in safety features are essential to meet all current health and safety legislation on sites today. It's an endorsement of the products quality that Balfour Beatty Utility Solutions have approved this system for use on all of its construction sites.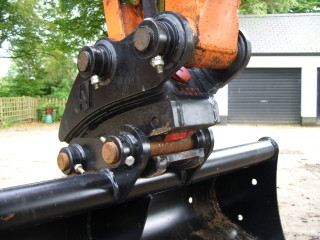 Officially launched into the UK market in 2009 the I-Lock is according to Harford's, a tried and tested unit which has not simply been rushed through to comply with the latest standards. In fact the design process started over 5 years ago, with the first prototypes being field tested in the US in 2006.
There are now hundreds of big I-Lock systems at work out there and many with over 4,000+ hours behind them.
Attachment of the buckets is safe and easy by first operating the primary switch to retract the locking wedge, this in turn activates the in cab buzzer as an audible warning to the operator.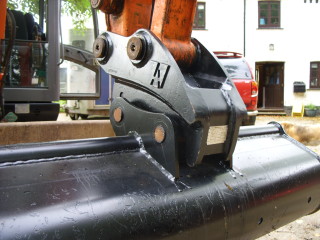 The hitch is then engaged with the front pin of the attachment and the safety knuckle (seen in red) drops down in front of the pin to prevent the bucket ever falling off. The bucket is then curled up to pressurise the system and the switch is turned off to engage the locking wedge.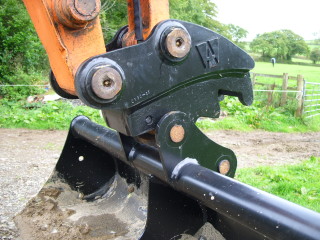 As with all quick hitch systems it is recommended that a quick rattle test is carried out to ensure full engagement of the locking wedge.
Check out this informative video on the operation of the I-Lock system
A big thank you to all at Harfords for a quick response and professional service.