We featured Michael Palma's family business, Palma Contracting Co Inc, in a blog post in February this year, but Michael was also keen to share these photos featuring another Brooklyn based business, who's owner was a close friend and contemporary of Michael's late father. Montuoro Excavating Contractor's were a company who specialised in heavy rock excavation in and around the New York Metro area, where it had operated from the 1920's until it ceased trading in the early 1980's. In this first shot we see a very early truck mounted crane fitted with a clam grab, loading rock debris onto an awaiting tipper truck. With one driver still sitting in the front cab section of the crane, one would assume that the machine was a two man operation. Sadly I have no dates to go with these photos, so if anyone has particular knowledge from this era, please leave a comment.
In this shot we see a rope controlled face shovel digging out on a site in New York. Imagine how difficult it must have been to operate these types of machine, not to mention hard work too. Another thing I like about these classic old photos is the way they all worked in open spaces, with hardly any hoardings or barriers around the job site, and not a hard hat or Hi Viz to be seen!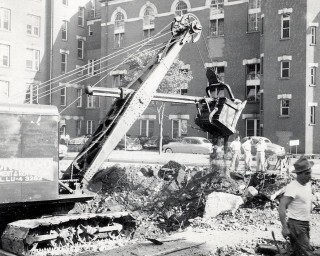 This truck mounted Lorain, rope controlled excavator, is working alongside a road where it was possibly digging out for a new kerb run. It looks like it would have been an interesting job negotiating those decorative street lamps. And zero tailswing machines were would have been a thing of fantasy back in those days!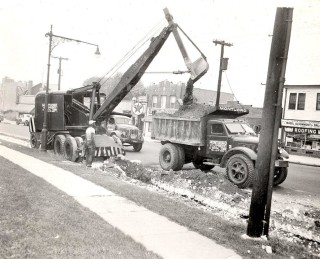 This Lima face shovel machine appears to have a different contractors name on it, perhaps A Muratore Contracting was just a slight name change for the business or maybe just another contractor in the area? The machine is seen here digging out rock that I imagine has recently been blasted, as I think there is evidence of "blast mats" in the foreground of the shot.

Here is another close up shot of the Lima in action on the same site. Another item of plant worthy of a mention in this shot is the truck mounted compressor in the background, which I suspect is powering the rock drill working to facilitate the use of explosive charges to blast the rock prior to digging out.
In this final shot we see a Montuoro tipper truck being loaded by another American classic make, a North West rope controlled face shovel, with a supporting Lorain face shovel in the background, as well as more evidence of rock drilling going on. It must have been a tough place to work with all that hard rock around and one can imagine it taking its toll on men and machines alike!
We thank Michael Palma for sharing these classic archive photos for us all to enjoy here on the Digger Blog.