The Doe Show is often described as the UK's largest agricultural, construction and groundcare dealer show. As with many Doe Shows in this past, there was a good mixture of new machinery, working demonstrations and plenty of bargains to be had in the nearly new and used equipment sections. Visitors to the show were greeted at the entrance by a shiny new Hyundai 210LC-9 hydraulic excavator.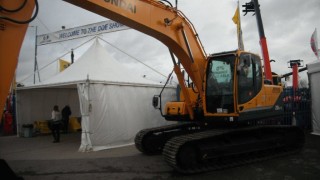 After entering the showground, Doug made tracks for the demo plot, where two Thwaites swivel skip dumpers were seen working with a Hyundai 145LCR-9, in what can only be described as sticky and challenging conditions.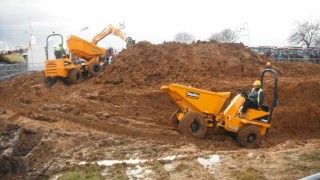 On the static display areas, another Hyundai 210LC-9 was featured in the livery of long time Ernest Doe customer and Hyundai user, Wormell Plant. The company was founded in 1970 by Steve Wormell, and is now run by Steve and manager John Hamblion. The company run a large fleet of Hyundai excavators, ranging in size from 14 -29 tonnes.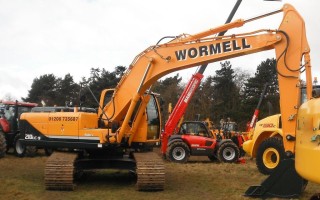 Also on display was a large selection of Hyundai mini excavators seen here in this photo, while in the foreground Mr Andy Parnham, a very well known and likeable guy who has been with Doe's since leaving school, chats with a customer about the latest Hyundai developments. Andy, who is 55 years old, sold his first machine in 1979, and Doug affectionately comments "I think Andy could sell sand to the Arabs", always the mark of a top salesman.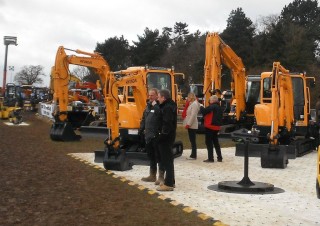 Back over at the demonstration plot now, and the role that Doug made all his own for many years has now been taken over by a guy called "Woody". Doug said he has worked with the guy many times over the years. Doug said "It was very heavy going this year and I very pleased that I have handed on the baton now".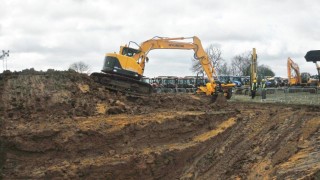 Commenting on another successful event Graham Parker, sales director of Ernest Doe said, "The day dawned brightly on Tuesday and the morning saw a constant stream of visitors entering the show from the car park. Sales of our used equipment got off to an especially brisk start. The show as a whole builds year by year. Our indications are that the sales results will pass those of last year and we are very pleased that so many of our customers take the time out of their normal work schedules to visit the show."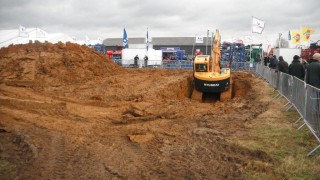 The Digger Blog thanks Doug Potter for sharing his photos with us.