When Finnish demolition company Toivonen's operators were demolishing some old silos in Turku during 2010, they were totally unaware that their every movement was being watched intensely by visual artist Tiina Vainio. Whilst large Daewoo, Hitachi, Kobelco and Liebherr machines powerfully ripped into the silos, their movements were being put onto canvas in a far more gentle way. Tiina's demolition excavator paintings were featured in a special art exhibition in Turku, entitled "Wonderful Machines".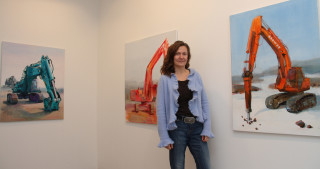 Talking about her art work Tiina said, "My husband is a civil engineer and is crazy about all sorts of machinery, his enthusiasm for heavy plant and machinery has spread to me too". Tiina accompanied a number of the machine operators to the exhibition as a thank you for allowing her to paint their machines. One machine operator was heard to say "I am now going to be a regular art gallery visitor!"
Talking about the men behind the controls of the excavators Tiina said, "I have the upmost respect for the men and women that can operate these massive machines with such skill and precision, it really is an art form in itself".

Tiina also captured on canvas, what looks like a classic old UK built Smalley excavator, on her travels around Finland.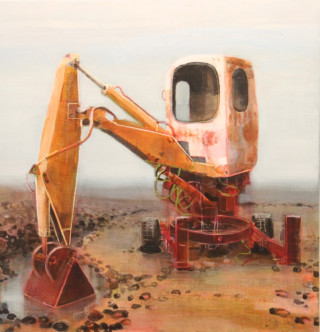 Tiina also takes orders to paint machine portraits for individual customers, which can be one off unique gifts for any companies head office.
We thank our friend and top Finnish plant journalist Olli Paivio for his assistance with this post.