The forty year old family business operates a whole range of plant and equipment for its wide ranging civil engineering projects on the island and decided to replace their 'A' version Volvo backhoe with the BL71B featuring powershift transmission and full servo hydraulic controls. "We've been very pleased with the original machine but immediately recognised the significant improvements made to the latest version," says Managing Director Derek Heddle. "The machine is put to a whole spectrum of work here on Orkney and has proved to demonstrate good pushing power on the front end and responsive hydraulics for the backacter and my operators appreciate the comfortable cab and all round performance of the machine," he continues.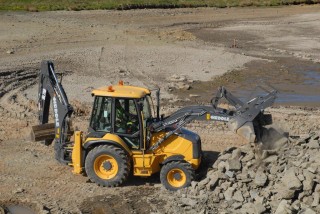 The Volvo BL71B has an operating weight of 9.8 tonnes and is powered by a Volvo 5 litre Tier III low emission engine developing 94 nett h.p. The torque converter on the machine is one of the largest in the industry and has excellent peak torque and torque rise and this couple to the powershift transmission maintains progressive traction - even on steep gradients. A differential lock on the rear axle is engaged via a foot switch on the side of the brake pedal and provides maximum rear wheel grip over slippery surfaces.
Both the loader and excavator benefit from flow sharing hydraulics that enable multi-functioning for efficient and smooth operation thanks to load sensing hydraulics that constantly adapt to the needs of the job in hand. With oil delivery that matches the required force, there is always the speed and power required for all hydraulic functions.

The redesigned Volvo CareCab on the BL71B offers 15% more space over its predecessor since the room between the operator's seat and the left side of the cab has been increased, as has space around the excavator pilot towers, making the position change between loader and excavator easier and more convenient. Here we see a BL71B that the Digger Blog test drove during the recent Lorient press event.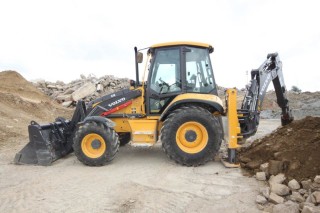 Heddle Construction are Orkney's most experienced wind and marine energy civil engineering contractor having assisted many companies to deliver their renewable energy projects. The vast range of services offered to the construction renewable energy sectors varies from general and heavy crane hire, heavy haulage and storage facilities to large civil engineering projects, steel fabrication and project management.