Design Turkey is the country's most important design competition, which is held every year in co-operation with the Prime Ministry for foreign trade, Turkish Exporters Assembly and the Industrial Designers Society of Turkey. The assessment is made by a jury of 30 world renowned experts from the field of design and technology.
Hidromek also won the Superior Design Award for its new "Maestro" series of Backhoe loaders in 2008, which makes Hidromek the only company in its sector to win 2 successive awards.
This new range of excavators, which I was lucky enough to see at Bauma and during my visit to the factory in Ankara, are superbly designed with the operator in mind.
Operators and owners of Hidromek machines were consulted during the design process to enable the company to produce the best possible working environment for the operator. In summary, a cab where he/she can work for long periods of time in a relaxed and comfortable "office" style work place.
As one would expect, these new machines feature a fully adjustable and heated air suspension seat complete with adjustable arm rests, and joysticks which are designed to be adjusted separately from each other for maximum operator comfort,

The new Gen series of excavators also feature "Opera" (operator interface).
Opera is Hidromeks unique compact control unit which includes engine throttle level, main menu-working settings, illumination, wiper and audio system functions.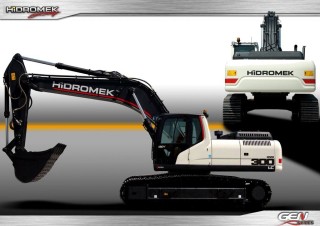 The Opera work station also includes a fully automatic air conditioning system, and the facility to follow the machine functions on the TFT display or choose rear view camera option for enhanced safety.
Hidromek is currently exporting its backhoe loaders and excavators to more than 50 countries in 5 continents. The company is managing its European operations from its own sales and after sales service centre in Barcelona, Spain. It has already appointed 26 dealers in Spain and is now in the phase of expanding its dealership chain in Portugal, France, and the rest of Europe.
In another exciting development the Hidromek team will be attending ConExpo in Las Vegas in March to talk with dealers from Canada and the USA. I hope to see them there and to report further on this forward thinking company's expansion plans.