During the Digger Blog's visit to Intermat in Paris last April, I was delighted to see the European debut of the company's latest Dash-5 models, offering advanced Interim Tier 4 engines, which offer more power, with lower fuel consumption. These new models also include an optimized hydraulic system, offering improved arm and bucket digging forces, greater lift capacity, and increased swing speed.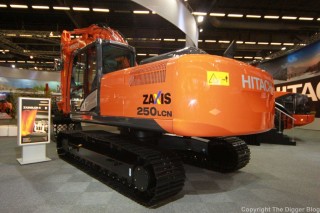 During my career as an excavator operator, I have spent a lot of time on Hitachi machines, and have always rated the brand very highly. Back in the early 1980s, I was operating models from the UH range, including a 6 ton class UH02, UH04, and an 18 ton class UH07, all these machines were run by Southampton based, Itchen Plant Hire Ltd, and had been fully refurbished by Beazer Plant Sales, who were the main UK Hitachi dealer at the time. I went on to operate a number of newer models over the coming years, and owned my own FH130-3 and EX120-5 models. More recently, I have owned a second hand 3 ton Zaxis 30 and earlier this year, as reported on the blog, I upgraded to a new ZX33U-3. I am now looking forward to spending some time at the controls of these latest Dash-5 models, as featured in this latest promotional video from Hitachi.

I missed out on a recent customer day at Hitachi's European facility in the Netherlands, but hope to make it out to Holland to try out some of these machines, first hand in the near future.