Readers holiday snaps still prove to be more popular than ever here on the blog, and this latest batch throws up some more interesting shots of old kit still earning its keep, with a liberal sprinkling of new kit too. Mark spotted these two battered and rather twisted looking old war horses whilst out an about in Jomtien. The B Series Cat, which is possibly a 320 and a Komatsu PC200, were working on a major road job in the town.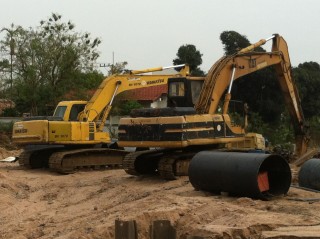 I love this shot of a rough looking Kobelco SK200 working in a main street, close to a busy crossroads in Pattaya. Once again what really amazes me here, is that machines appear to work away in Thailand, with no protective barriers around the job site, and in this instance just a couple of old road cones in place, no sign of any Chapter 8 here! And don't even mention how close he is to those overhead cables above the machine.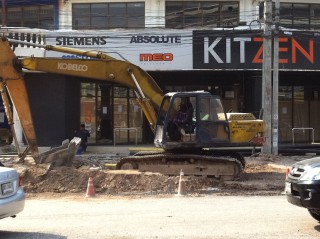 Talking of busy and congested streets, take a look at this 20 ton Kobelco excavator working away down an extremely narrow backstreet, a situation that would never happen here in the UK, and where a mini excavator no larger than 5 tons would be much more suitable to the task.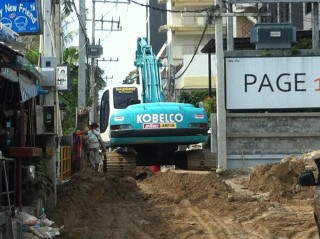 Check out one of the UK's finest laying back and enjoying the Thai sun, Mark spotted this old JCB 3CX which looks as if it hasn't moved for a while, in Khon Keon in the North East of Thailand.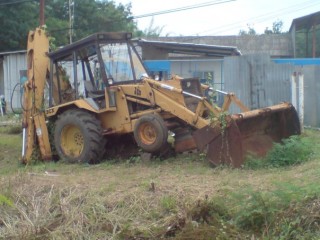 Not all old kit out there though; this virtually brand new JCB 3CX Eco backhoe loader looks impressive with its Knight Rider style blacked out windows. Mark noted that nearly all backhoe loaders in Thailand appear to use just one 2ft (600mm) bucket for every task, and he said one rarely see's any type of grading bucket at all?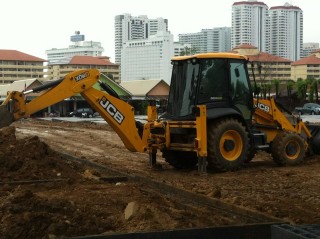 To round off this first batch of Mark's photos, I really like this shot showing a more modern Kobelco machine loading a lorry in the background, and in contrast a really old early Komatsu excavator nibbling away at the pile caps in the foreground, and still putting in a good days work!
More from Mark's Thai machinery photo collection soon, here on the Digger Blog.