Here is a trio of brand new Komatsu PC200's for sale at a local Komatsu dealership in Chomburi. The 20 ton class machines appear to be the most popular size in Thailand with examples seemingly appearing on every street corner!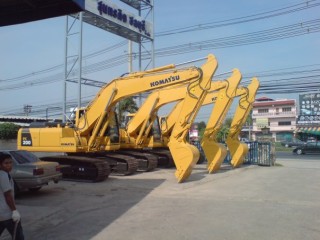 Mark spotted this re-conditioned Caterpillar 825C sheep's foot compactor for sale at a used plant sales yard in Bangkok.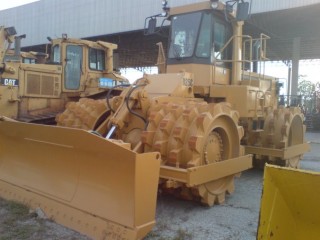 You don't see many of these Komatsu WB97S backhoe loaders about in the UK, but according to Mark there are a number of them at work in Pattaya.
Here is another classic shot from Thailand, with machines working away with no evidence of protective barriers between them and members of the public. A JCB 3CX and a Komatsu PC200 are seen hard at work putting in a new sewer line in preparation for a new road construction job in Jomtien.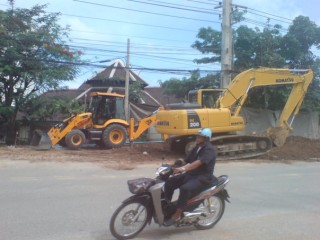 Here is another great UK exported JCB 3CX working in Pattaya, this example is a two wheel drive model with a canopy style cab structure.
Yet another 20 ton machine this time from the Kobelco stable. This SK200 machine was working on a new boat marina that was being constructed at Bali Hai, near Pattaya.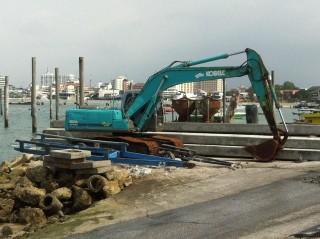 This shot shows the local Volvo construction equipment dealerships premises, somewhere in Cambodia, which is randomly located in amongst some apartments and shops.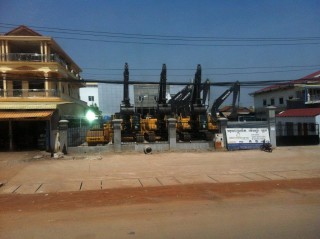 Finally on our machinery spotting tour in Thailand, Mark spotted these two Kobelco excavators at work during the construction of a new hotel in the back streets around Phuket. And there is no truth in the rumour that he was just taking a photo of the young lady in the foreground!

We thank Mark for sharing his photos with us on the Digger Blog, and remind readers that if you have material you would like to see on the blog please don't hesitate to send it into me at the usual digger blog email address.