The first model will be the Cat 336E H, which the company claims will offer 25% fuel savings. The machine uses new hydraulic hybrid technology developed by Caterpillar. It has filed more than 300 patents on the technology, that it has developed for this machine.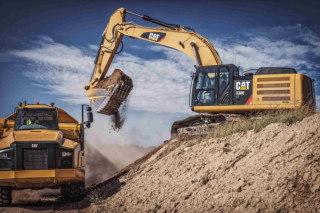 The new 336E H will be officially launched at the Bauma 2013 trade fair in Munich, Germany next April, although orders will be taken from February and shipments start in March 2013. Fingers crossed the Digger Blog will make it to the Munich super show to witness the machines official debut.

In this video operator's who have been fortunate enough to test drive the new model talk about their first impressions of the new machine.