There are currently three Hyundai machines working on this particular site in Bideford, North Devon. The machines are owned by Wiltshire based Blackhorse Contractors and comprise of two 21 ton R210LC-9's, and the latest addition on site is the stunning 14.6 ton R145LCR-9 compact radius machine.
The operator on the R145LCR had only recently taken the seat on this new machine, having previously been employed operating one of the 21 ton models. He said he liked the Dash-9 models, but was still getting "the feel" of the R145LCR, which only had 34 hours on the meter when we took a look at it.
The Dash-9 models were officially launched into the European market at last year's Bauma exhibition in Munich, Germany, where the Digger Blog were guests on the Hyundai stand. Unfortunately there was no digging plot in Munich, so we were unable to get hands on with these new machines, but I hope to soon and will give a full report on our test drive here on the blog.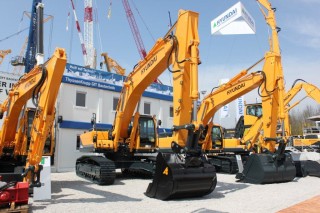 Over the past two years Blackhorse Contractors, have like so many firms in our industry, been forced to take a long hard look at every operational aspect of the business, as they all look to cut costs and top of the agenda for Blackhorse was its machinery fleet.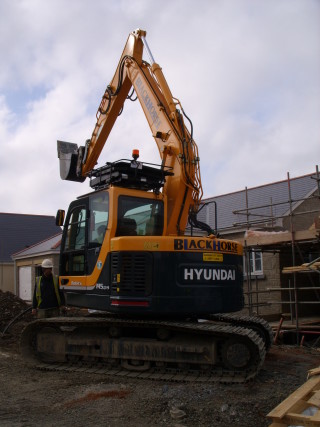 "As we adapt our business, we are gradually shifting from a mixed fleet to an all-Hyundai portfolio." says Blackhorse Contractors plant manager Malcolm Slade.

"It is one of those areas where we can look to generate savings through better operating efficiency and improved fleet management. I like the advantages that operating a single branded fleet has to offer, including spare parts availability and service items".
Mr Slade also spoke of the importance of the warranty, backup and support that they get from both the dealer – Molson Group – and Hyundai too. "Hyundai is a company that listens and also takes notice of end users, while Molson Group is prepared to do whatever it takes to support its customers".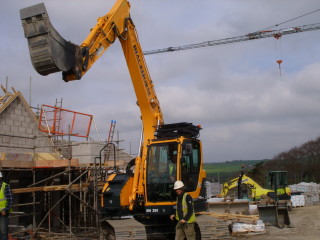 Blackhorse Contractors excavator fleet currently includes 40 Hyundai Dash 9 models, which include a mix of short radius R60CR-9, R80CR-9 and R145LCR-9, plus conventional R210LC-9 21 tonners. The first models arrived in the summer of 2010 and others are gradually being phased in to replace older models on the fleet.
On this occasion I was not able to gain access to take any photos of the 21 ton machines on site but I hope to do so next week and will post them on the blog as soon as I can. Here is an example of one of the Blackhorse R210LC-9's courtesy of the Hyundai press office.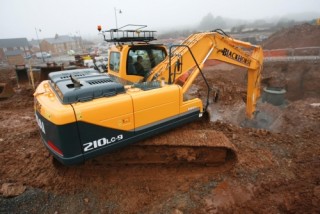 I have written on the blog before that I do like the look of these new Dash 9 models and can see them doing very well in the UK in the future with the new dealer networks that are in place.