Among them are four new Stage IV excavators – two crawler models and two on wheels – and four new Stage IV wheeled loaders. Clearly a theme of Bauma 2016 is the Euro Stage IV emissions regulations
The two crawler excavators are the HX235 LCR and HX145 LCR, the Koran manufacturer's first short tail swing machines in Stage IV generation. Similarly the new HW140 and HW210 are its first Stage IV wheeled excavators.
The HX and HW ranges have newly designed cabins, with a new larger front screen. Compared to 9A-series, the interior of the HX and HW cab give the operator 13% more space, Hyundai says. How do they measure these things? Is it all differentiation and integration (a distant memory for me now form my A level maths, but I'm sure they must have had some practical use – was this it?). Or maybe they just fill the cabs up with water and see how many bucket-loads they hold?
New safety features on these machines include Hyundai's AAVM Advanced Around View Monitoring system for 360°-surround virtual operating view, which displays on an 8-inch screen. There is also an Intelligent Moving Object Detection (IMOD) system that senses and warns the operator when objects come within working distance of the machine.
The four new Hyundai wheeled loaders at Bauma will be: HL940 TM (for construction), HL955 TM (for forestry), HL970 (construction) and HL980 (quarrying and mining).
TM stands for Tool Master. These are Hyundai's loaders with parallel kinematics, instead of a conventional Z-bar, with a quick coupler for attachments.
Across the range, Hyundai claims 5% greater productivity and 10% lower fuel consumption than the previous 9A Series loaders.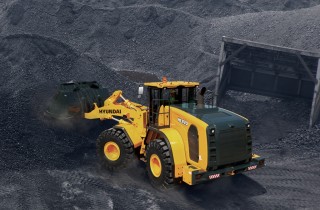 The HL970 (pictured above) is a 23.5-tonne wheeled loader is the largest model in a series that includes the recently introduced 15-tonne HL955 and the 18.8-tonne HL960. It has a 3.6-4.2 m³ bucket capacity and is powered by Scania DC09 085A Stage IV engine boasting a gross 311 HP (232kw). Hyundai's approach to meeting Stage IV is a combined solution of exhaust gas recirculation and selective catalytic reduction technologies, without the need for an additional diesel particulate filter. Depending on the application, the HL970 can deliver up to 10% more fuel-efficiency in loading jobs than its Dash 9A Series predecessor, Hyundai says.
All eight of these new machines have a new touch-screen monitor that is similar to a smart phone display and larger than in previous models. The audio system, which includes a radio, has an integrated Bluetooth hands-free feature, and a built-in microphone allowing the operator to take and make calls when in the cab without taking hands off the machine's controls.

The 'Infotainment' system also has the Miracast system to allow screen mirroring with the operator's smart phone. Using WiFi, anything you can access, do or watch on your phone, you can also access, do or watch on the cab display.
Like this maybe….?