The 120m-long tied-arch bridge was lifted by three big Terex crawler cranes onto 20m-high piers to carry the the A23 motorway between Hamburg and Heide in north Germany.
The structure was brought to site on modular transporters and then placed on a pontoon and floated over the river Stör, ready to be raised.
For the lift itself, Sarens set up a Terex CC 6800 (rated at 1250-tonnes maximum capacity) on one side of the river bank to take 600 tonnes of the bridge's weight. On the other side, local crane hire firm Ulferts & Wittrock set up its brand new Terex Superlift 3800 (650-tonne class) and Dutch firm Wagenborg set up a CC 2500-1 (500-tonne), with each taking 300 tonnes of the load.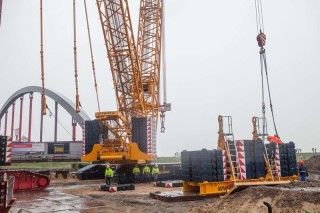 It was the very first outing for the Superlift 3800 (the yellow one). "This new crane allowed us to eliminate the costly and time-consuming process of having to build an auxiliary structure," explains Albert Schrör, Ulferts & Wittrock's operator for this crane.
The Terex IC-1 crane control system, featured on all three cranes, made sure the three operators could keep the weight evenly distributed throughout the progress of the lift, even though the rain lashed down, doing its best to put them off.
The lift took five hours to complete.