TheShropshire-based firm recently bought 12 JCB JS220 tracked excavators and has now equipped them all with the latest Quickhitches. In addition, Hawk Plant has also purchased three JCB 3CX backhoe loaders and 10 JCB Loadall telescopic handlers, with all equipment supplied by dealer Gunn JCB.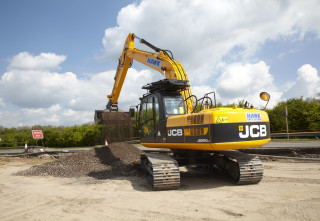 The JCB Dualock is an innovative double locking quickhitch developed by JCB Attachments. It features independent locking of the front and rear pins. Designed for use with JCB tracked excavators from the JS130 through to the JS460, the hitch is compatible with both genuine JCB buckets and JCB scoop buckets, along with the full range of JCB powered attachments. It uses the well proven blocking bar system from the BUG coupler to secure the rear pin lock.
In addition, a novel mechanical front lock secures the front pin independently of the rear. The face of the front locking mechanism is painted red and can easily be seen from the cab, ensuring the operator can be confident that the bucket is securely fastened before operating the machine. A series of on screen checks via the JCB JS Auto excavator Advanced Management System further guarantees it is safely secured.

Director of Hawk Plant, Paul Allman said: "Driven by a commitment to provide our customers with the safest equipment available we are replacing our Quickhitches across the fleet. Customers must be totally confident in the equipment that they are operating. We are now providing them with levels of safety well in excess of those required by current standards.
"They are starting to demand dual-locking hitches whenever they hire excavators and we have every faith these new units will deliver. To date they have worked effectively with no issues whatsoever."
Founded in 1972, Hawk is one of the largest independent plant hire companies in the UK. Its team has been involved in the supply of equipment to the construction industry for in excess of 35 years. Its total fleet contains over 1500 items of the most technologically advanced and reliable equipment from leading manufacturers. It specialises in large bulk earthworks equipment, on some of the largest projects within the UK and overseas.
It is part of The Hawk Group which commenced operations in the 1960's. Beginning in the local agricultural and plant market, the business has developed into one of the largest construction equipment and agricultural equipment hire companies in the UK. In 2009, the group turnover reached £50 million.