JCB had a new 457 wheel loader, the JS300 tracked excavator and a new series of midi excavators.
The JCB 457 (pictured below) is the first machine with the new CommandPlus cab, engine cover and rear counterweight design, all of which are designed to improved visibility, lower noise levels, increase internal space and generally improve they daily life of the operator. This new ROPS structure has A pillars that have been moved out to the same width as the rear of the cab, providing a larger interior with a panoramic front windscreen. It uses JCB's Command Driving Position, with revised pedals, new adjustable steering column and seat-mounted hydraulic controls. JCB says that the 193kW MTU engine in this machine gives around 16% fuel savings compared with the previous model.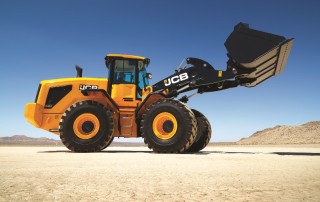 The new 30-tonne JS300 crawler excavator (below) replaces the previous JS290, with claimed 4% fuel efficiency improvements. The six-cylinder 161kW Isuzu engine is compliant with EU Stage IIIB emissions standards and engine drives a twin variable displacement pump hydraulic system, controlled by JCB's Smart Control work mode dial that automatically adjusts the working mode as revs are increased.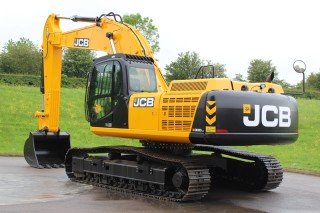 When equipped with a 2.5m dipper arm and a standard 6.2m monoboom the JS300 has a bucket digging force of up to 253.6kN and a maximum dipper arm crowd force of 173.1kN. However the excavator is equipped with a new tipping link geometry that gives an increased vertical wall digging depth, adding to its versatility.
The first three models from a new range of JCB midi excavators are setting the company up for predicted market growth. Chief innovation and growth officer Tim Burnhope says: "The compact excavator market is expected to increase to over 200,000 units by 2017 and with this fantastic new range, JCB is ready to seize the opportunities presented by such massive growth."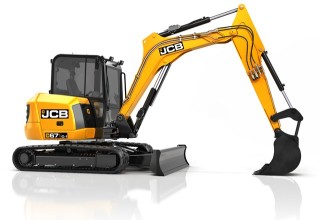 The 67C-1 (pictured above), the 86C-1 and 85Z-1 (both pictured below) will launch a completely new look for JCB midi excavators, with a revised H-design undercarriage, steel body panels and new cab. They are powered by the new 'JCB by Kohler' diesel engines, again Stage IIIB compliant, delivering 55hp (41kW) in the 6.7-tonne 67C-1 and 64hp (48kW) in the two 8.5-tonne models.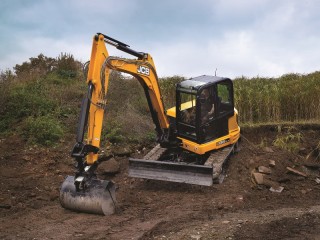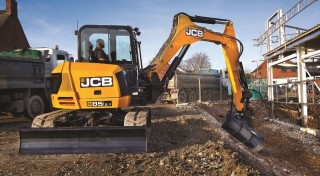 JCB also now has a crawler version of its smallest backhoe loader. The 1CX-T has a 36.3kW engine generating 140Nm of torque. It has the power of a 2.5-tonne mini excavator, while the standard sideshift backhoe digs up to 36% deeper with the Extradig option to give more digging depth than a comparative skid steer with a backhoe attachment, JCB says. As the backhoe has been designed as an integral part of the machine, the 1CX-T is more compact. The tracked machine also has 14% greater bucket capacity than the standard wheeled 1CX, thanks in part to its superior stability over rough terrain.