Formed over 30 years ago, K&M Groundworks is owned and operated by father and son, Ken and Mark Mantyk, offering many years of experience in groundworks projects throughout South West England. The new Bobcat excavator is currently being used on a major housing project at Cranbrook close to the airport outside the city of Exeter in Devon. The excavator is helping the team from K&M Groundworks to build the infrastructure and services for this exciting new development.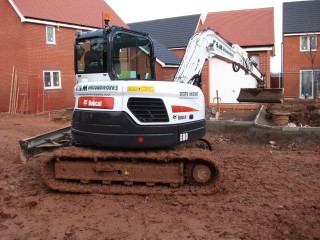 Weighing 8388 kg, the new Bobcat E80 excavator is equipped with a cab, a long dipperstick and rubber tracks. In this configuration, the maximum digging depth of the E80 is 4675 mm, the maximum dump height is 5085 mm and the maximum reach is 7295 mm.
Mark Mantyk said: "The compact dimensions coupled with the ZTS design and boom swing function allow the E80 to work well in the confined areas in which we work. In the past, we purchased Doosan wheeled excavators from Kellands but the increasingly narrower roads and tight spaces on projects made the switch to the tracked machines a very timely decision.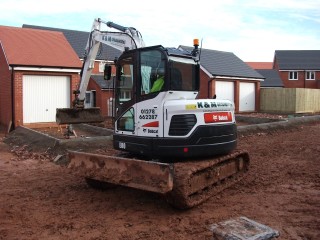 "The extra auxiliary line on the E80 is ideal for slope grading work with a tilt bucket and is complemented by the power from the high performance engine and the swing torque, the highest in its class, which make the E80 an ideal machine for working on slopes."
The E80 is powered by a 40.4 kW Yanmar liquid-cooled diesel engine running at a maximum governed speed of 2000 rpm. Electronic injection together with Auto Idle ensure optimum fuel efficiency at all times. The low noise and emission levels of the E80 make it suitable for operation in noise sensitive areas and at night.
The E80 is designed for easy, precise controllability. The controls have been arranged to ensure convenience and comfort for the operator and maximum operating efficiency. The hydraulic joystick levers have comfortable grips that allow the operator to perform smooth, precise operations.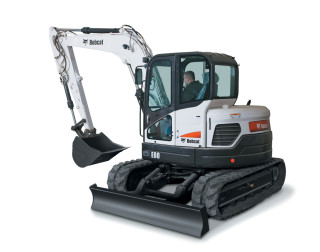 With a low noise level of 74 dBA in the cab, the E80 offers optimum operator comfort. A high capacity heating and air conditioning system is standard, with fully adjustable vents installed at both the front and rear of the operator's seat to maximize efficiency. Another standard feature is an electric refuelling pump. Maintenance procedures for the E80 are simple. Convenient check points make it easy to do routine maintenance, while a tilting cab simplifies service work.
Mark Mantyk added: "The space in the operator cab of the E80 excavator is similar to that found on bigger machines. The cab has a large entrance and exit, giving good access to get into and out of the machine. The interior of the cab has been designed to optimise operator comfort, and the openness of the cab provides a wide field of view and excellent all around visibility. The cab lighting, sun visor and side mirror contribute to a safe and convenient working environment for the operator."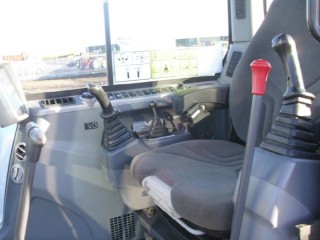 Mark Mantyk concluded: "The high performance, reliability and ease of maintenance of the new E80 excavator is combined with the excellent parts and service back up from Kellands, providing us with an ideal all round package."