The Komatsu WA100M-8 meets the EU Stage IV engine regulations – which presumably the UK will still abide by after Brexit next year, although who knows? – with a selective catalytic reduction (SCR) system, diesel particulate filter (DPF) and AdBlue engine additive. With a 6,000-hour cleaning interval, the DPF is typically maintenance-free for 10 years, Komatsu claims.
"The WA100M-8 is built on the strong base of the WA100M-7," says Sebastian Zienau, product manager at Komatsu Europe. "And with its many new features and options it opens up a whole new range of versatility. We're really looking forward to offering such a flexible machine to our customers".
Operating weight is 7,200 kg and output from the Komatsu SAA4D94LE-3 engine is 70 kW (94 HP) net. Optimised for tough construction applications, it delivers high torque even at low revs, Komatsu says. A fully automatic hydrostatic transmission sends power to all four wheels.
Available options include increased travel speed (40km/h), new high flow hydraulics, a new height-adjustable trailer hitch, and new 3rd & 4th hydraulic circuits on the rear of the machine. Air conditioning and an electronic controlled suspension system (ECSS) are also available.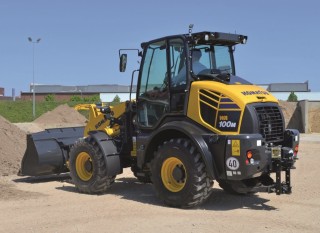 The 1.3m3 digging bucket has been redesigned for improved penetration. It has a longer bucket bottom, a modified shape of the back and side walls and a new design of the spill guard.
Other modifications include a new engine hood and a new multifunctional high-resolution TFT-LCD widescreen colour monitor panel. The improved, ergonomic controls include a PPC multi-function lever with optional electronic control for 3rd and 4th spool.
All maintenance and service points can be accessed by tilting the cab. The optional hydraulic cab tilting pump allows the operator to perform maintenance on the job site. The engine hood opens widely for a quick daily inspection, the electric equipment is protected behind a maintenance cover, and the radiator is conveniently accessible. A compartment for battery, main switch and relays improves maintenance access to the electrical system, Komatsu says.