KW Timmins & Sons Ltd was started by Ken Timmins in 1980 as agricultural and plant engineers. When Will and his brother Ed left school in the early 90s, they both joined the family business. Since then the company has diversified into agricultural contracting, plant hire, demolition, groundworks and construction. They currently employ 16 fulltime staff.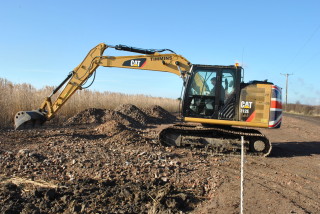 The company's fleet of equipment consists of five 360 degree excavators, including two Bobcat 3 & 5 tonne mini excavators (the latter machine being a zero tailswing model), one Hitachi 8 tonne midi excavator, and two Caterpillar 13 tonne class machines, comprising a 312C model that was bought new in 2007 to replace an outgoing 312B in 1999, and their latest arrival the 312E.
The 312E was bought new as an additional machine, due to increased workload. Both Caterpillar machines were sold to Timmins by their local Cat sales representative, Jed Goodwin of Finning UK, who retired at Christmas.
Long term Cat user Will said: "After looking at a few second-hand machines, which seemed over priced, we spoke to Jed, who gave us a great deal on a new 312E. He had told us about a union jack machine, which after seeing pictures of, my father wasn't too keen. But my brother and I thought it looked great and it would be a great advert for our company". Keen readers of the Digger Blog may recall this machine and others were featured in a post when it was on display at the entrance to Finning UK's headquarters in Cannock during the Olympics last year.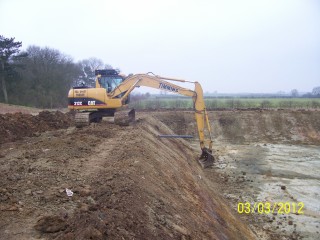 Will continued: "The big rear end is a bit of a shock when you first see it, and if I'm honest she's a bit of an ugly duckling, but there are enough mirrors all around the machine and the rear mounted camera is great in conjunction with the large colour monitor in the cab for when working in a tight spot".
"We occasionally use the 312E with a saw head attachment, which we use to trim brash and hedges for local farmers. The controls are very light and it's an absolute joy to spend the day in the E series cab, she's good on fuel, and the backup we receive from Finning UK is second to none".
Scott would like to thank Will Timmins and Steve Collishaw, for the heads up. And the Digger Blog thanks Scott for bringing us this post.