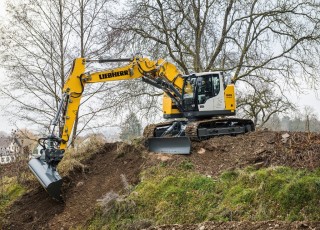 The R 926 represents a continuation of Liebherr's Compact product line, with Stage IV compliant engine. With an operating weight of between 25.4 tonnes and 29.5 tonnes (depending on option selected) it sits toward the upper end of the family, which spans the 15 to 35 tonne weight range.
Enhancements include Liebherr SCR technology, an improved swing torque, greater engine power and simplified maintenance.
With a tail swing of 1.7 metres and a front swing of 1.9 metres, its dimensions have been reduced to give a swing radius of less than 4 metres, making it one to consider for confined areas.
The Stage IV diesel engine, manufactured by Liebherr in Bulle, Switzerland, generates 129 kW, which is an increase of 8% over the previous Stage IIIB model.
The exhaust gas after-treatment takes place without the need for a diesel particulate filter (DPF) or an exhaust gas recirculation (EGR) valve, reducing maintenance requirements.
There is also a fully-automatic centralised greasing system as standard to ensure regular lubrication.

New hydraulic components in the new R 926 Compact result in higher productivity than the old model. The improved swing torque of the uppercarriage is 84 kNm, an increase of 18%. Liebherr says the improvement is particularly noticeable in loading processes and work on slopes.